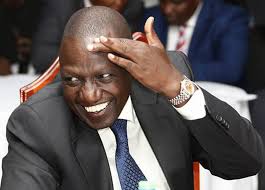 The office of the deputy president has advertised for bids for provision of air charter services. Through a tender notice by Hon. William Ruto's office, bids are invited for helicopters and fixed air wing air crafts. The move will see Kenyans digging deeper into their pockets to foot the expensive bills for hiring such aircrafts whose costs will range between Kshs. 200,000 to 500,000 per hour.
"Interested service providers who are registered in relevant trades and categories, (proof of registration required) may obtain Tender documents from Harambee House Annex 1st floor, room 1B12/13, in person, or against written application. The non- refundable fee of KShs. 1,000 is to be paid in cash at the cash office before 4.00pm on normal working days or in banker's cheque payable to the principal Administrative Secretary,  office of the Deputy president," reads the advert that was released to the media.
Earlier this year, the Deputy President sensationally claimed that he owns no choppers but the ones he was using to traverse the whole country belonged to Hon. Moases Kuria.
this latest move, tp hire expensive pales, only adds more insult to injury as kenyans are already grappling with higher costs of living and taxes. It is ironical for the cash strapped government to talk of cutting expenses on one hand but spending hefty amounts on luxuries like aeroplanes.
You may also like:
Full speech by the Education CS, Amb. Amina, on measures put in place to deliver credible exams- 2018