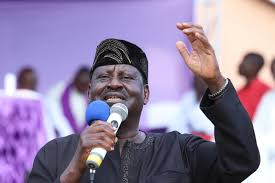 The Orange Democratic Movement, ODM, leader (H.E Raila Odinga) has castigated the recent clamor for higher perks by Members of Parliament, MPs. through a press statement by his his Secretary today, Hon Raila says that he 'is deeply disturbed by attempts by Members of Parliament to raise their pay and related perks at a time the country is going through a difficult economic phase.' Raila's statement comes after the MPs passed a bill to increase their benefits, amid protests by Kenyans. Kenyan Legislators are considered to be one of the highest paid MPs, worldwide, currently.  Read more details here: Current salaries, benefits and new demands by Kenyan MPs.
Despite warnings by the Salaries and Remuneration Commission, SRC, the MPs have forged forward in their push for more pay. According Onyango; "Mr. Odinga is equally concerned that the pay hike conspiracy by MPs is coming at a time other public sector employees such as teachers, nurses and civil servants are going through pay restraint and are generally accepting less pay for much work."
The former Prime Minister is now appealing to members of Parliament to appreciate that the country is struggling with huge debts that cut through the broad spectrum of the country's economy and deficits strangling specific critical sectors.
"(Am) appealing to Members of Parliament to refrain from returning the country to the pre 2010 Constitution days after swearing to protect the Constitution of 2010," Hon Odinga says. He further adds that before promulgation of the 2010 Constitution, there was anarchy that should not be allowed to creep back, into the country. "Under the pre-2010 regimes, the matter of MPs pay would be out of the control of Kenyans. But, that is no longer the case," Raila notes.
The former premier says it is only the Salaries and Remuneration Commission, SRC, that is constitutionally mandated to determine salaries in Kenya. "The 2010 Constitution that Kenyans voted overwhelmingly for, the task of determining salaries of public officers, including MPs, lies with the Salaries and Renumeration Commission (SRC). The SRC has warned that the pay demand by MPs, if affected, would touch off a clamor for similar raises across (the) public sector where many spirited officers are currently doing with little to deliver much to our citizens," Raila advises.
Hon Odinga now appeals with the MPs to stand with the common citizens and also to stop the erosion of public trust in the Legislators through this grand larceny and impunity that they are trying to force on tax payers.
It remains to be seen whether the MPs will heed Hon Odinga's advise more so after turning down pleas by the President and Deputy President to pass the two thirds gender bill.