The Kenyan Legislators are among the best paid Law makers in the world. But, still the Kenyan Law Makers are currently demanding for more perks and benefits.
CURRENT BENEFITS TO MPs
Currently, the Kenyan, Members of Parliament, MPs, are entitled to, among others, :
A salary of up to KShs. 1.2 Million per month.
A Kshs. 20 Million Mortgage facility at an interest rate of 3% per Year; repayable in 5 years.
Mileage allowance to cater for transport costs to the Constituency.
A car grant of Kshs. 7 million.
A family medical Insurance Scheme covering:

Inpatient costs up to Kshs. 10 million.
Out patient cost up to Kshs. 300,000
Maternity costs up to Kshs. 150,000
Dental care of up to Kshs. 75,000
NEW DEMANDS BY MPs
An expanded medical cover to include more than one wife and the extended family.
Increased travel allowances.
Expanded constituency outreach programme; on top the current National  Government's Constituency Development Fund, CDF.
A rent free government house or greatly enhanced monthly house allowance.
Allocation of government vehicles.
Increased allowances while on foreign and internal trips.
Kshs. 5,000 allowance for every sitting.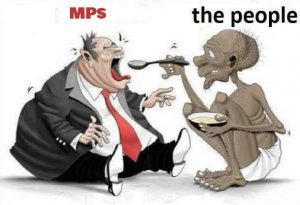 Composition of the twelve Parliamentary Service Commission:
The Commission consists of the Speaker of the National Assembly, as the Chairman, seven Members appointed by Parliament and one Woman and one Man appointed by Parliament from persons who are experienced in Public affairs but are not Members of Parliament. The Clerk of the Senate is the Secretary to the Commission.
The Hon. Adan Keynan, M.P. – Member
The Hon. Benson Momanyi, M.P. – Member
The Hon. George Khaniri, M.P. – Member
The Hon. Aisha Jumwa, M.P. – Member
The Hon. Aaron Cheruiyot, M.P – Member
The Hon Dr. Lorna Mumelo,- Member
Mr J. M. Nyegenye – Clerk of the Senate Secretary to PSC (Parliamentary Service Commission)