The Inua Jamii Cash Transfer programme cushions the elderly and allows them to lead decent lives in old age.
The Government of Kenya consolidated multiple intervention programmes into "'lnua Jamii' – a cash transfer programme for the vulnerable in society" to enhance efficiency and effective coordination. The programme covers the elderly, persons with severe disabilities, orphans & vulnerable children across all constituencies.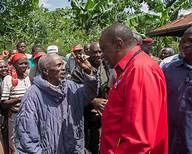 The Government first embarked on a clean-up of the beneficiary list through biometric registration to remove undeserving beneficiaries and replace them with deserving ones. As a result, the programme expanded to reach 718,383 beneficiaries up from 227,969 in 2013, an addition of 490,414 new beneficiaries. All beneficiaries are now accessing funds through biometric payment system and NHIF cover is also being rolled out to them.
Inua Jamii has seen over Ksh. 48.55 billion transferred to beneficiaries since 2013. This is up from an average of KSh. 5.5B billion annually to approximately Ksh. 17B annually, a 209% increase. This has led to poverty reduction, economic empowerment and uptake of income generating activities, improved living standards and promoted dignity amongst the vulnerable in society.
In Kilifi county, 35,000 people aged 70 years and above will benefit from the Kshs. 850 million Social protection funds, in 2018, that will insulate them against economic shocks and cater for their daily basic needs.
Soy MP writes to Speaker proposing motion on Abolition of Senate.