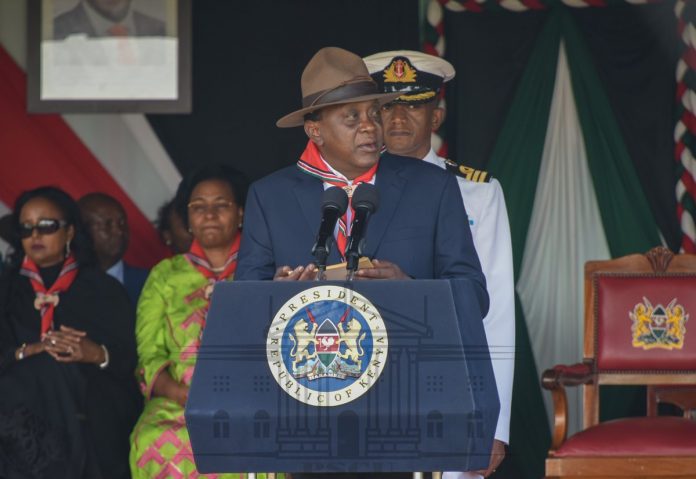 President Uhuru Kenyatta has issued a strong warning to young people who engage in unlawful activities, saying such vices will not be tolerated. President Kenyatta, who is also the Patron of the Kenya Scouts Association, emphasized that those engaging in negative activities will be dealt with severely according to the law.
While warning young people indulging in negative activities, the president confirmed that the boys who abused government officials had been nabbed. "I want to tell you young men and women, you are our future and we are proud of you. But I also equally send a very strong warning to those young fellows who think that they can indiscriminately involve themselves in negative activities. And as I talk to you today, those young boys  are where they should be (in police custody) in order for them to be disciplined. " President Kenyatta said. The president said this in relation to videos that went viral online this past week in which school boys were heard abusing Ministry of Education Cabinet Secretary, Dr. Amina Mohammed, and her Interior and National Coordination Counterpart, Dr. Fred Matiang'i. Read more here: Students caught on Video insulting CS Amina, Matiang'i
The president asked the youths to respect elders. He warned the boys who were heard bragging about cheating that they will face dire consequences. "And indeed if you are ready to brag about cheating, then we shall show you what this nation does with cheats and people who have no respect for their elders. Hiyo tutawaonyesha (they will be disciplined)," the president said. Yesterday, police confirmed that they had arrested three of the boys who had been identified by the Principal to Ambira boys.
The President was speaking at State House, Nairobi, when he presided over this year's Kenya Scouts Association's Patron's Day and presented various awards to members of the association for their contribution to the scouts movement and the country.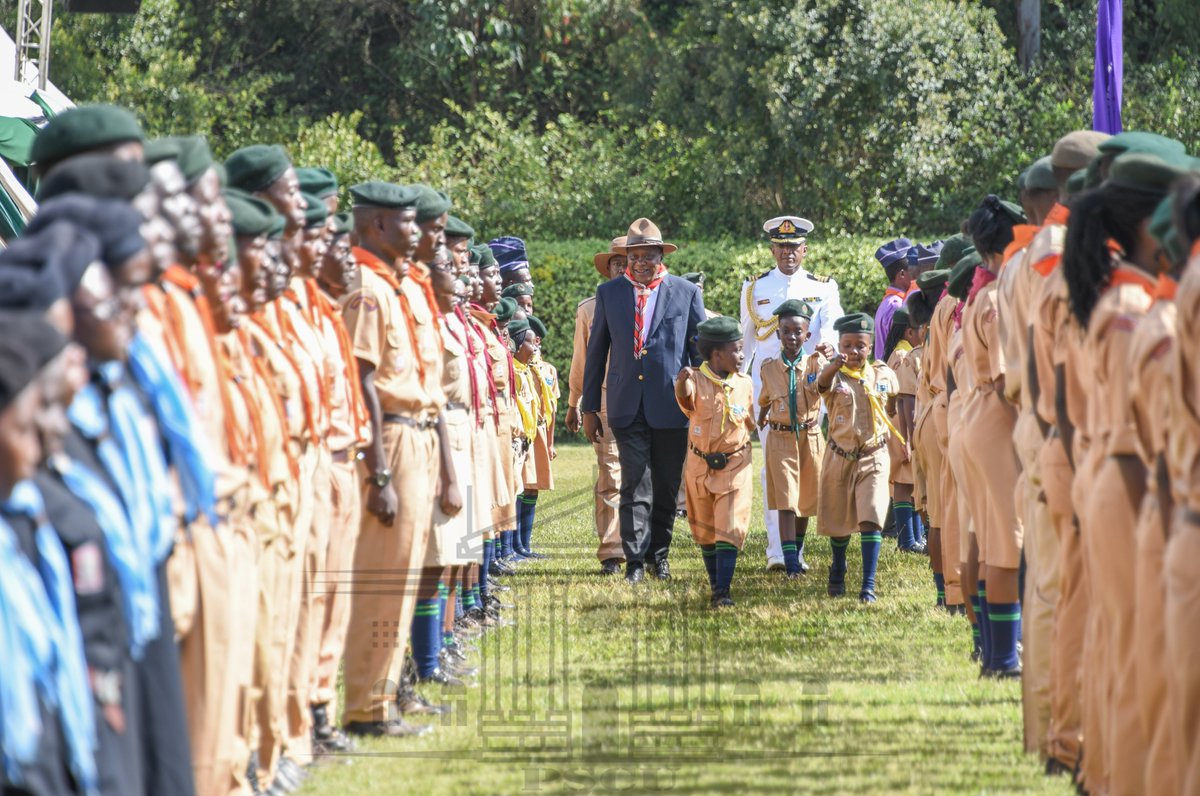 Photo (Courtesy of State House)- President Uhuru inspects a guard of honour by the Kenya Scouts Association, at State House Yesterday. The President has directed the Teachers Service Commission, TSC, to employ two teachers per county to be in charge of scouting activities.
Recognizing the scout movement's potential to support government efforts to instill discipline among the country's youth, President Kenyatta directed that the Teachers Service Commission  to deploy two teachers to each county to coordinate scouting programmes in schools. "As we have just agreed, there will be two teachers, paid for by the National Government paid for through the Teachers Service Commission in each county to support and work with the scouting Association to help us grow the movement but, also to help us once again to instill discipline," said President Kenyatta.
He urged schools to make use of the scouting movement as a partner and use its influence to instill the culture of discipline in our schools. President Kenyatta also assured that the Government will double its financial allocation to the Kenya Scouts Association, commending the association for its prudent use of public funds.
The President said the approximately KShs. 105 million allocated to the Scouts Association annually has been put to good use leading to a significant increase in numbers of young people who have joined the association.
"The increase of membership from 125,000 in 2013 to 1.4 million making it the largest youth organization in Kenya and in Africa today is no mean achievement. It means money has been spent well," President Kenyatta said.
"Because you have used the funds well, starting this coming financial year, we shall double the allocation to ensure this association continue to do the good work that it is doing," he continued.
The President asked the National Land Commission to regularize the status of all land belonging to the Kenya Scouts Association and hand it back to the association before close of this year.
He said the Ministry of Youth and Public Service Ministry will work with the Association to convert those lands, where possible, into fully operational Scout Centers where scouts can carry out their programmes.
"This is to give the growing number of scouts safe and convenient spaces to carry out scouting programme activities," the President said.
The President pointed out that being a scout is supposed to be an added advantage when one is seeking employment especially in the disciplined forces and in public service, and directed that scouts should be accorded priority in recruitment.
"If there are two applicants for police, for the military or any Government job who have the same marks, the one who participated as a scout should have the edge," President Kenyatta said. President Kenyatta agreed to the association's request to make the Patron's Day an annual event.
Public Service, Youth and Gender Affairs Cabinet Secretary Prof. Margaret Kobia said the Government through various ministries dealing with the youth empowerment agenda appreciate the methods and the procedures used by the scouting movement in teaching young minds fundamental principles that are of great importance to national development.
"Virtues such as integrity, patriotism, equality, dignity and social justice – these are the character traits needed in our youth for attainment of a just, equitable and cohesive society as envisaged in Kenya's Vision 2030 development blueprint," Prof. Kobia said.
Other speakers included the Kenya Scouts Association Chief Commissioner Victor Radido who gave an update on the association's activities and thanked President Kenyatta and the Government for enhancing financial allocation to the association, a move that has enabled it to increase the number of scouts in the country.
You may also like:
Do not over react Mr. President- Angry Kenyans respond to the president's directive on arrests of the Ambira boys
Police arrest 15 boys and an equal number of girls while engaging in a sex party