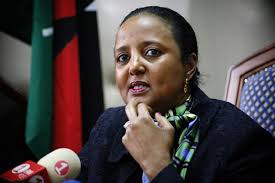 The top candidate in the 2018 Kenya Certificate of Primary Education, KCPE, examinations scored 453 marks out of a possible 500 marks. Two candidates managed to tie at the top; with the 453 marks. This was announced by the Education Cabinet Secretary, Dr. Amina Mohammed, while releasing the 2018 KCPE results at the Star of the Sea Primary School in Mombasa, today.
Dr. Amina announced that there was improvement in the 2018 KCPE exams performance as compared to that of 2017.
Girls beat boys in Languages.
In 2018, females performed better than boys in three subjects namely: English, Kiswahili and Kenya Sign Language. The boys were not left behind, either, as they outwitted the girls in: Mathematics, Sciences, Social Education and Religious Education.
According to Dr. Amina, the number of candidates sitting for this year's KCPE examinations rose by 5.9% from 993, 718 in 2017 to 1,052, 344 in 2018; this translated to an increase in candidature by 58,626.
Over 50% of the 2018 candidates scored above 250 marks this year. In 2018, This is how the candidates performed in terms of total marks scored:
401 to 500 marks; we had 12,273 candidates. An increase from 9,846 in 2017.
301 to 400 marks; 228,414 candidates.
201 to 300 marks; 574, 927 candidates.
101 to 200 marks; 234, 573 candidates and
01 to 100 marks; there were 2,177 candidates.
The CS promised that all the 2018 KCPE candidates will get placement in secondary schools in 2019
To get the 2018 KCPE results, SMS your full index number to 20076.