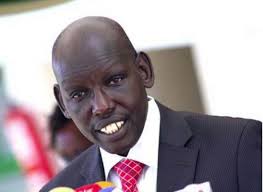 The Ministry of Education has finally released Kshs. 12.6 billion for subsidized secondary schools education and Kshs. 2.8 billion meant for free primary education for third term ,2018. Ministry of education, Science and Technology Permanent Secretary, Dr. Belio Kipsang, told journalists at the Kenya Institute of Curriculum Development, in Nairobi, today. The PS was accompanied by the Kenya National Examination Council Chairman, Prof. George Magoha, after steering a stakeholders' meeting on preparation of the 2018 National examinations. The funds come through over a month after schools re-opened for third term. Most schools' heads had raised concern over the delay in releasing of the funds saying such delays were hampering smooth preparations for the national examinations. The move is good news to most schools and candidates as it will enable schools prepare adequately for the national examinations whose commencement is less than a month away.
Read also..https://newsblaze.co.ke/public-schools-hit-with-financial-crunch-as-government-delays-release-of-fse-and-fpe-funds/
During the Education stake holders' meeting, at the KICD today, the government reiterated its readiness to deliver clean and credible examinations. Today's meeting was attended by schools' heads and Regional Coordinators of Education (RCEs) led by Dr. Kipsang and Prof. Magoha. The meeting which took close to three hours deliberated on on measures put in place to stamp out cheating in Kenya Certificate of Primary Education, KCPE, and Kenya Certificate of Secondary Education, KCSE, examinations.
A number of emerging issues were discussed. It emerged that students were trying to cause disturbance in order to be allowed to use mobile phones to cheat during the exams. Dr. Kipsang, in his response, said that they will not be black mailed by some of the students and that use of mobile phones in exam centres remained banned. Students who had registered as boarders will have to stay in school even as it emerged that some of them wanted to be allowed to be day scholars, during the exam period. This was also informed by the fact that some schools lost dormitories to schools' infernos experienced in second term. The Permanent Secretary directed such schools, lacking enough dormitories, to convert the classrooms that will be left vacant by forms ones to threes, who will close early, into dormitories.
Dr. Kipsang, also, noted that some schools are already plotting to cheat in the examinations. Speaking to the media, KNEC Chairman Prof. George Magoha said that they are investigating about 30 schools alleged to be hatching plans to cheat at the tests. "I went to Kisii, Nyamira and Homabay. But we do not want to stigmatize the whole (Kisii ) region as if it is full of examination cheats. We are focusing on four schools in Kisii, Five schools in Meru and three in Garissa". Prof. Magoha told journalists today. The tough speaking KNEC chair declined, though, to name the schools saying they do not want to disrupt preparations for the examinations and "cause unnecessary anxiety to our children".
Read also..https://newsblaze.co.ke/kisii-is-not-a-hot-spot-of-national-exams-cheating-kuppet-official-says/
Prof. Magoha reported that about 20 people are being investigated for involvement in examinations cheating racket by selling fake papers to schools and parents and circulating them on social media. Last week, the KNEC chair warned students purchasing purported examination papers that they were just wasting quality time instead of revising for the exams. Magoha also warned schools' heads flouting Ministry of Education rules that stern action will be taken, against them, at a later stage as they do not want to disrupt smooth preparations forth coming  examinations. The said schools' heads are asking parents to pay for the supposed leaked exam papers on top of inviting them to schools for the banned prayers' days.
You may also like:
This man Matiang'i! A preview of his successful & unsuccessful policies, reforms, at the Education docket