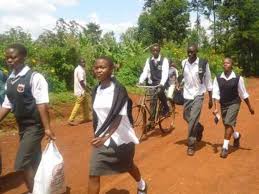 Ruchu girls High school has shot to the limelight after allegedly suspending a student past the recommended time. A video of the suspended girl was leaked online last night. According to the girl, Ruchu girls' deputy principal threw the student out last evening; at 6.45 pm. The girl, though, did not give reasons for her dismissal.
It all started at 6.45 pm when a group of 20 students under the deputy's instructions ejected the girl. "I saw 20 girls rushing to me shouting and telling me they have been sent by the deputy (principal) to come and tell you to pick your things (personal effects) and get out," says the girl; in the video. The Ministry of Education has set guidelines for releasing boarders from school in order to guarantee their security. According to the guidelines, students are to be released from school before 12.00pm and the guardian/ parent must be informed before hand.
The girl was then transported in the school's van to Njiiri high school where her parents work. Listen to the video, below:
(video) School girl thrown out by Ruchu girls
Ruchu Girls Secondary School is a girls' boarding school located in Gakarara Sub location, Ithiru Location, Kandara Division, Kandara Constituency in Murang'a County.
Below, images of the school's van and the girls. (Courtesy)