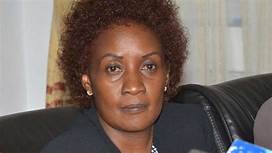 The Teachers Service Commission, TSC, has sent a message of appreciation to all teachers for their selfless services, rendered this year, ahead of the National examinations period. Through a presser by TSC Chief Executive Officer/ Secretary, Dr. Nancy Njeri Macharia, the TSC says "a big thank you to all the 312,000 teachers in primary and Secondary schools for their commitment and hard work throughout the year preparing the 1,725,345 KCPE (Kenya Certificate of Primary Education) and KCSE (Kenya Certificate of Secondary Education) examination candidates."
This appreciation note comes after most schools having closed for the long December holidays, for form ones, twos and threes.
Dr. Macharia, also, has kind words for the Principals and head teachers who shall be centre managers during the KCPE and KCSE examinations. The commission thanks 'the 30,184 principals and head teachers who will be centre managers to ensure smooth administration of KCPE and KCSE (Examinations).' The TSC Secretary has in the same breadth thanked the 35,114 supervisors and 91,405 invigilators who will oversee administration and monitoring of the National examinations. This happens even as the TSC and KNUT lock horns over unresolved industrial matters affecting teachers like: stoppage to the Performance Appraisals, Suspending delocalization of teachers and promoting teachers on attainment of higher qualifications by the Commission. read more details here: TSC Cancels the much anticipated meeting with KNUT
"Finally, the commission wishes all the 1,725,345 candidates the best in the examinations and in their future endeavours," Dr. Macharia concludes. As the December holiday beckons, most teachers will still be engaged in the administration and marking of the National examinations, whose results are expected before the end of the year, 2018.
Related Content: KNEC contracted professionals' details