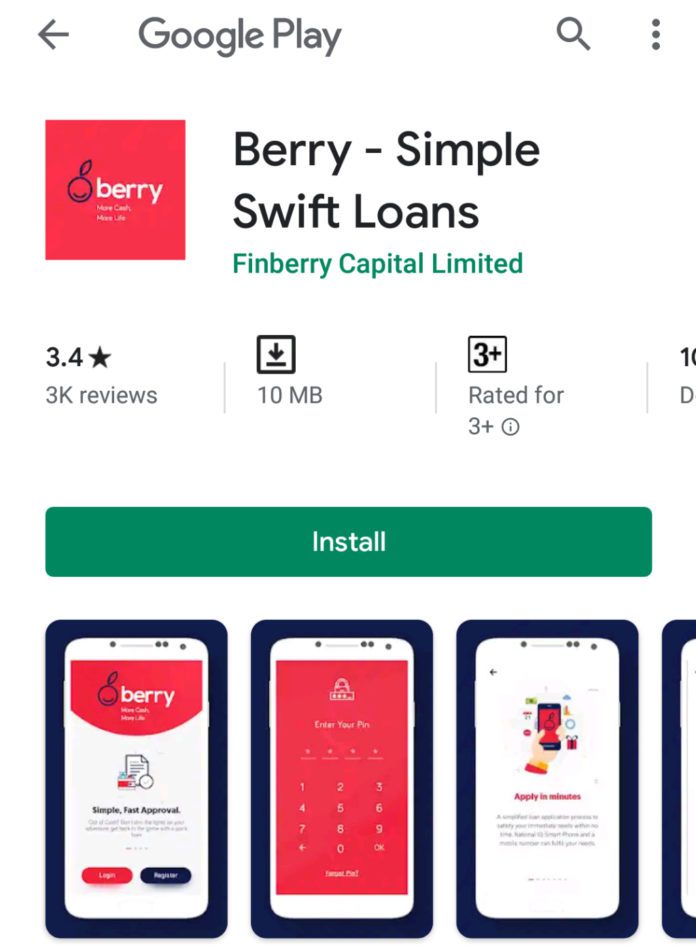 Mobile loans have become more popular for customers seeking quick loans. Unlike over the counter loans, mobile loans offer convenience and flexibility. Take for example if one had an emergency; that requires financial attention, over the weekend and on public holidays when most banking halls are closed! Such an individual will suffer a great deal. But thanks to mobile loans Apps, one can process the loans online and instantly. All what is required is a smart phone and you will get your loan instantly. Furthermore, mobile loans are paperless and thus very few requirements, if any, are needed. Again, there so many lenders providing loans online. The Mobile lenders have developed Apps that can be downloaded freely from Play Store. Here is one of the lenders providing such loans online.
The Berry Mobile Loans
Berry, Kenya's newest mobile money lending App. Berry, Kenya's unique mobile money lending App, credits you with low cost loans with flexible repayment schedules. Get the cash simply and swiftly straight to your mobile wallet.
How it works?
• Download the free App from Play store and Register
• Log in
• Click on 'Apply Now'
• Select your loan amount and repayment options
• Get the approved amount into your M-Pesa instantly
Privacy and Permissions:
Once you download Berry, we will ask you to provide permissions to scan your SMS in order to validate your identity and creditworthiness. Instant loans amount will be credited directly into your M-Pesa account. Berry has taken thorough steps to secure your private data you share with them using advanced encryption mechanisms. They take your privacy very seriously and promise to never share your information to anyone.
Terms:
Berry is very flexible and charges affordable and low service fee ranging from 8% to 15%. They offer loans for different durations.
Berry charges a processing fee of 9-15% of principal amount. The customer determines their own repayment schedule meaning customers may make payments towards their principal at any time after disbursement. If a customer has not paid the processing fee the principal amount on the due date, Berry extends a further 7 days to allow the customer to make the payment. Only after the grace period has elapsed will a onetime late payment fee of 15% (processing fee+ the principal amount) be changed. No other fees will be charged after this time.
Important to note:
All the above information will be displayed in a broken-down form for the customer on the App upon qualifying for a specific amount before a customer accepts to take up the facility.
Sample Loan:
Borrowed amount: 1000 KES
Processing Fee: 150 KES
Expected Payback amount 1150 KES
With Berry at your fingertips, you can handle emergencies, clear bills, pay school fees, etc. Basically anything you need to keep your life moving forward and embracing any opportunity that comes your way.
Want to reach Berry? Use Email; [email protected]
Also read;