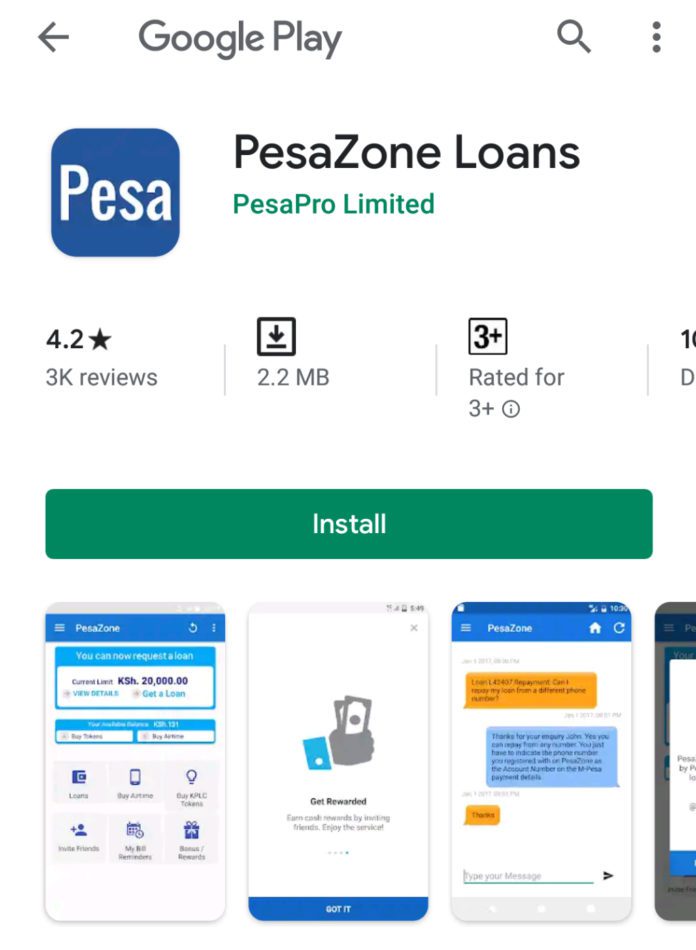 PesaZote loans App provides Fast Loans to Trustworthy Customers via M-Pesa. Customers can access lending conveniently and from their comfort zones. NO Paperwork is required neither do customers have to answer many Questions.
SMS Permissions Note: To build your credit score automatically, the App will request you to provide permission to access mobile money SMS records(M-Pesa messages)
Amount to Borrow: You can borrow from KES 250 to KES 50,000/= from the App and receive the cash via M-Pesa anywhere in Kenya without any papers, guarantors, security or office visits!
Features of the Pesazote loans
You may chat with PesaZote on the App for assistance
Their Loans range from KES 250 to KES 50,000/=
Loan defaulters are Blacklisted via Credit Reference Bureau(CRB) reporting. They may also involve Debt Collectors.
Currently, Pesa Zote is only supporting phone numbers registered on M-Pesa.
Loan repayments are made via M-Pesa and are applied instantly.
You may repay your Loan before the due date and in instalments of any amount.
Excess payments will be automatically applied to your future loan requests.
You may request another loan immediately you settle the current one.
How to access Pesa Zote Mobile Loans
Getting PesaZote loans is simple. All you need to do is download their App which is available at Google play store. Just open Play store on your phone, search for Pesa Zote, click on it to download and register to receive your loan instantly.
Also read;