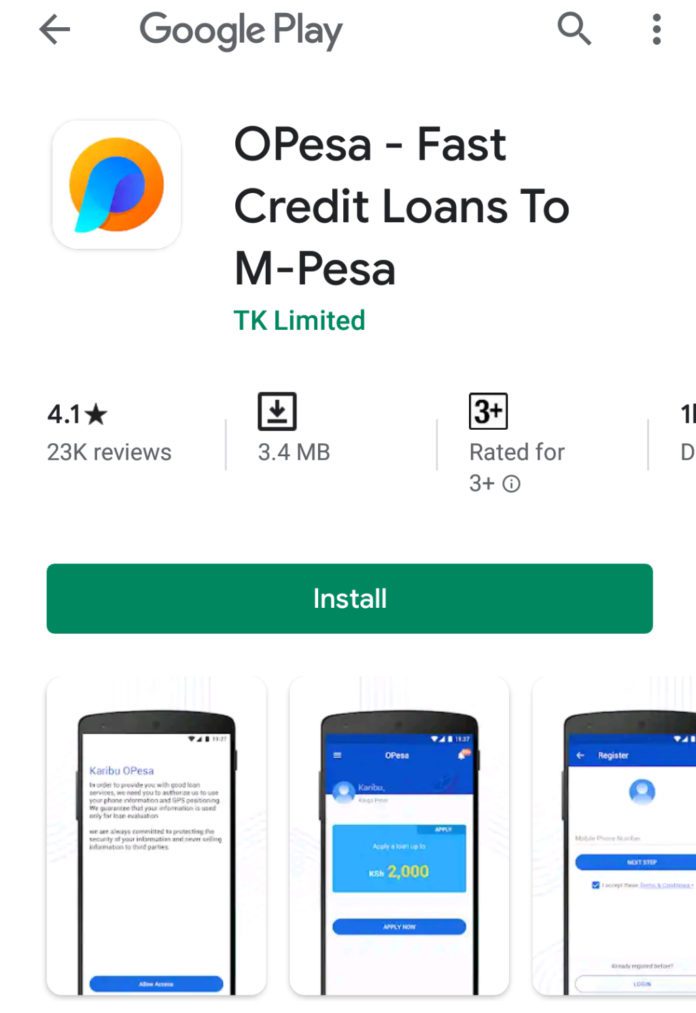 Looking for quick credit loans in Kenya? OPesa offers fast money to your M-Pesa. The Opesa loans App is available on PlayStore.
The Quick Loan App OPesa offer:
1. Loan Amount: 500 Ksh ~ 30,000 Ksh
2. Loan Term: the shortest tenor is 91 days, the longest is 365 days
3. Interest rate: 12% APR
4. Service Fee: 0
Example: If the loan amount is 5,000 Ksh, the loan term is one year, and the interest rate is 12%, the total interest should be 5,000 Ksh * 12% = 600 Ksh.
What you need: OPesa offers the fast and safe loans to you. You just need a phone number, M-pesa account and good credit score, and the money will be transferred to your M-pesa account in a short time.

To apply for a loan, you just need to follow several easy steps:
1. Register with your M-Pesa number
2. Apply for the exact loan amount you need
3. Get approved and receive the money in minutes
4. Repay on time to get a credit limit of 30,000 Ksh

Privacy and Permissions:
OPesa verifies your identity and assesses your credits by collecting your full legal name, national ID, M-Pesa number (Submitted Information) and the data from your mobile phone including your SMS log, call log, GPS and other information (Device Information). They need your explicit permissions during registration to access those data. No loan can be disbursed if the data is missing. Note that Opesa take your privacy seriously and hence no need to be worried. All your data is well encrypted and secured.
More details: https://service.o-pesa.com/privacy.html
CONTACT OPESA
Reach OPesa at: [email protected] and +254-207650999.
Facebook: @OPesaOfficial
Office Address: Ring Road Parklands, Building: Apollo Center, Sarit Centre Nairobi
How to get the Opesa Loans App.
The Opesa loans App is available freely at Google play store. Just open Play Store on your phone, search for Opesa and install it. Open your Opesa App, once installed, Register and get your loan instantly.
Also read;