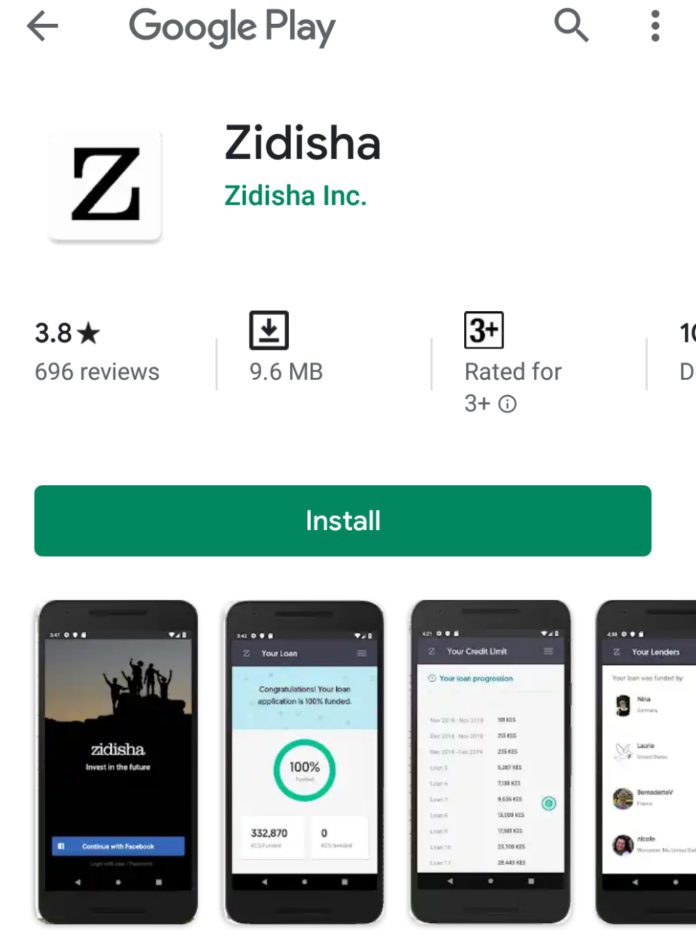 Mobile loans have become more popular for customers seeking quick loans. Unlike over the counter loans, mobile loans offer convenience and flexibility. Take for example if one had an emergency; that requires financial attention, over the weekend and on public holidays when most banking halls are closed! Such an individual will suffer a great deal. But thanks to mobile loans Apps, one can process the loans online and instantly. All what is required is a smart phone and you will get your loan instantly. Furthermore, mobile loans are paperless and thus very few requirements, if any, are needed. Again, there so many lenders providing loans online. The Mobile lenders have developed Apps that can be downloaded freely from Play Store. Here is one of the lenders providing such loans online.
Zidisha loans App
Zidisha is an international lending community that offers responsible, high-achieving people the chance to raise loans directly from ordinary people all over the world.
Why join Zidisha?
Open to everyone: You do not need to have collateral assets, a bank account, guarantors, or a salaried job to raise a loan.
Flexible: You choose your own weekly repayment schedule.
Community: Loans are funded by other Zidisha members, not banks. You become part of a supportive community of entrepreneurs and lenders from all over the world.
What are the eligibility requirements?
Have your own Facebook account with extensive social connections.
Have a source of income that will allow you to make repayments each week.
Be able to secure recommendations from people in your community.
How much can I borrow?
Credit limits start small and increase with each loan repaid on time, up to a maximum of US $10 000.
What are the fees and interest?
Zidisha loans do not carry interest. Borrowers pay a service fee of 5% of the loan amount, to cover the cost of transferring and administering the loan.
Loans also carry a credit risk payment ranging from 5% to 30%, which is used for reimbursing lenders in the event of default. The credit risk payment decreases as you build a history of on-time repayments.
A one-time premium membership payment may be required in order to access higher credit limits.
Download the Zidisha loans App today from Google play store and enjoy their lending services.
Also read;