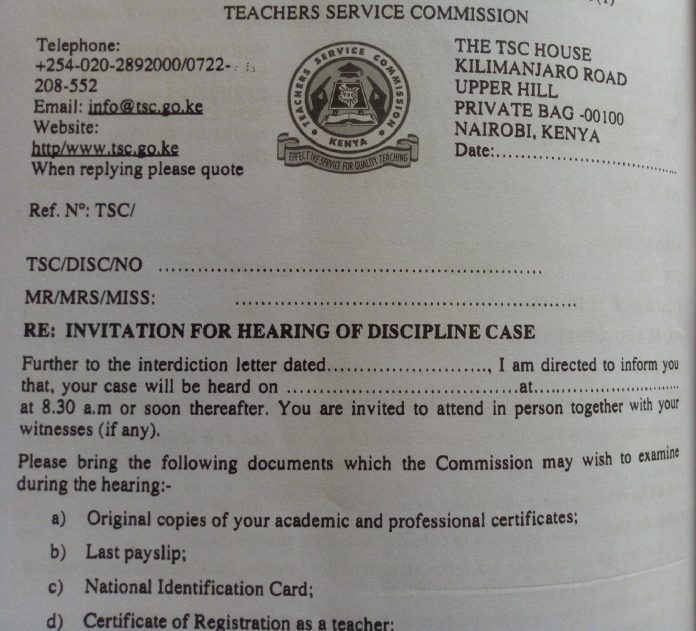 PROFESSIONAL MISCONDUCTS (OFFENCES)
The following offences/ misconducts may lead to disciplinary action by the Teachers Service Commission:
1. Chronic absenteeism
-Persistent/repeated absence from duty without permission.
-Lateness of duty.
2. Desertion of duty
-Absence from duty for 14 continuous days (without written permission) including weekends and public holidays.
-Failure to report for posting after expiry of study leave.
-Proceed on study leave without approval
3. Insubordination
-Failure to respond to letters from superiors.
-Failure to take up posting after disciplinary process/transfer /deployment.
– Proceeding on transfer without formal release.
-Failure to forward correspondence by teachers to and from the commission.
-Failure to handover/takeover an institution upon transfer.
-Administering corporal punishment.
-Failure to submit probation report in respect of a newly recruited teacher at the expiry of probation period
-Excluding a teacher from the time table without authority from the commission.
-Pecuniary embarrassment including, but not limited to failure to honor financial obligation as they fall due.
-Failure to submit required reports within the stipulated periods.
-Failure to adhere to health and safety rules.
-Failure to complete and submit appraisal report.
-Refusal to discuss Appraisal Report with the supervisor; or
Any other form of insubordination that in the opinion of the Commission warrants disciplinary action
4. Negligence of duty
-Willful neglect to perform any work or careless or improper performance of any work assigned to the teacher.
-Failure to teach scheduled lessons.
-Failure to prepare professional documents e.g schemes of work.
-Allowing examination cheating.
-Grading fake marks.
-Failure to perform T.O.D duties.
-Failure to attend School assemblies and official meetings.
-Failure to take students for official duty/functions.
5. Infamous conduct in any professional respect.
-Drunkenness or any form of intoxication during working hours.
-Fighting in public or any violent behavior that may bring profession to disrepute.
-Conduct or behavior which contravenes Chapter Sic (6) of the constitution: or
-Pecuniary embarrassment including, but not obligations as they fall due.
6. Forgery/impersonation/collusion/ Fraud and Corrupt deals/bribery.
-Causing payment of salary to teachers not on duty e.g deserters, deceased persons.
-Failure to report offences by teachers.
-Forged signatures, stamps.
-Obtaining registration through fraudulent means.
-Submission of incorrect staff returns.
-Submission of forged certificates.
-Misrepresentation/falsifying information.
-Some exam malpractices/irregularities.
7. Immoral behavior
-Sexual intercourse
-Sodomy
-Lesbianism
-Sexual harassment/flirtation/indecent Act.
-Love relationship
-Sexual assault.
-Exposure to pornographic materials.
You may also like:
TSC PROFESSIONAL MIS-CONDUCT(OFFENCES)/ OFFENCES THAT CAN LEAD TO INTERDICTION/ DISCIPLINARY ACTION
TSC: OFFENCES/ MISCONDUCTS THAT MAY MAKE A TEACHER TO BE REMOVED FROM THE TSC REGISTER/ Deregistered