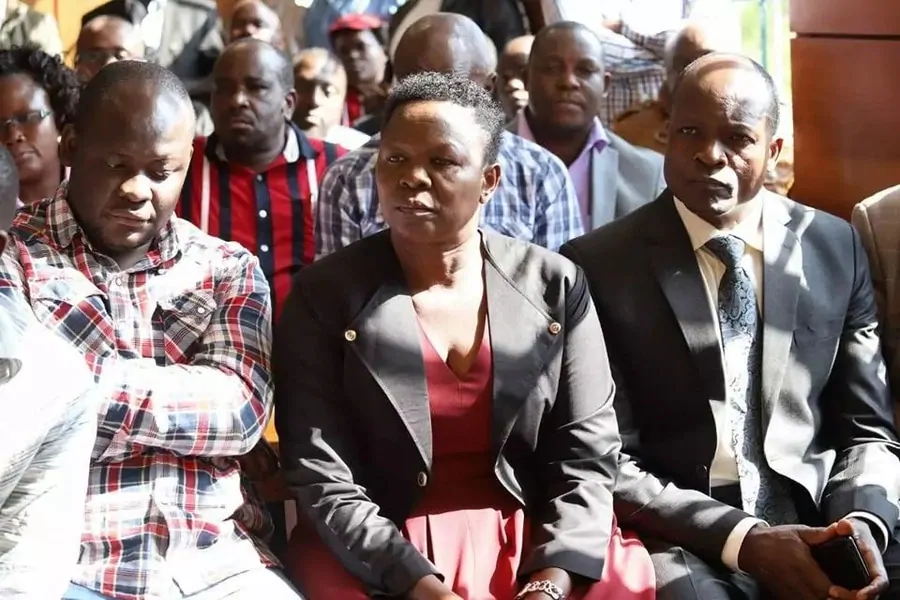 Friends and foes, alike, concede that the current Migori Governor,  Okoth Obado, is a political schemer with widespread grassroots support, having been a farmer and teacher for many years. The embattled Migori County boss, has been through thick and thin times, before. And, each time he has come out 'victorious'. The million dollar question is, 'will he survive the latest onslaught over his involvement with the slain Rongo University Student- Sharon Otieono?'. He is the most talked about personality in Kenya today.
OBADO'S DOCUMENTED EARLY LIFE
Obado grew up in Uriri Sub-county in Migori and attended the famous St Joseph's Rapogi before joining Kenyatta University where he trained as a teacher, having taken a Bachelor of Arts in Education and a Masters of Strategic Management. He was employed by the Teachers' Service Commission at Taranganya Boys High School in Kuria. He was later transferred to his last station located in his home constituency, Rapogi, where he exited the service to join the private business sector.
He is married to Hellen Obado, together with whom they have three children. (With 2 of the known Children being: Jerry Okoth(son) and Evalyne Okoth (Daughter)
OBADO'S CAREER LIFE
November 12th 2010: Was Appointed Chairman of Kenya Sugar Board By Then Minister Of Agriculture S. J. Kosgey
4 March 2013: Elected as the first Governor of Migori County through People's Democratic Party (PDP) against the ODM wave. Contesting on a small known People's Democratic Party (PDP), he went on to trounce ODM's candidate Oyugi Akong'o, even after the High Court ordered a recount. Obado soldiered on against an onslaught from ODM ward representatives and party officials who tried to impeach him at every available opportunity.
8 August 2017: Re-elected for the second term as the Governor of Migori County through the Orange Democratic Party (ODM). In the 2017 elections, Obado faced one of his most formidable opponents, former Energy Minister Ochillo Ayacko, who gave him a run for his money in a campaign marred by scenes of violence that saw the two summoned to Nairobi by the ODM disciplinary committee. A few weeks to the 2017 elections, violence broke out at Migori's Posta grounds, leaving many people injured after supporters clashed. Among those injured were bodyguards of senior ODM leaders. Ayacko and Suna East MP Junet Mohammed quickly blamed Obado for the violence, but the governor denied any involvement. The Party's disciplinary committee fined Obado Sh2 million for the violence, saying it had established that it was his supporters who stormed the meeting.
Despite the shaky relationship with ODM leadership, a determined Obado went ahead to win the chaotic party primaries, forcing Ayacko to decamp and contest against him as an independent candidate. Ayacko lost to Obado in the main election, filed a petition in High Court and lost that too. He went to the Court of Appeal, which threw out the case.
OBADO, THE CONTROVERSIAL  SCHEMER.
Governor Okoth Obado in not devoid of controversies:
During his term, he was rocked with accusations of flaws in procurement procedures in his administration coupled with the alleged embezzlement of public funds. In one of the most controversial deals, Obado was accused of procuring a bed worth Kshs1 Million using public resources but he refuted the claims as a narrative sponsored by his opponents.
On procurement of vehicles worth Sh231million, the purchase included ambulance from Toyota Kenya who mainly deal in pick-ups but require upfront payment if one requires a different vehicle like in this case, an ambulance.
It has also emerged that the governor had a fling with Rhoda Odie Nyakwaka, the stepsister of his wife, Migori First Lady Hellen Obado. The First Lady and Rhoda are born of the same father who got the latter after inheriting her widowed mother in Kadika village of Suna Central sub-county.
In November 26, 2017: Migori Governor Okoth Obado was forcefully ejected from a KQ plane after one of his security guards mishandled a weapon during handover to flight crew leading to the pistol discharging. According to witnesses at the airport, the governor was accompanied by at least two guards when he was boarding 13:00 KQ 656 to Kisumu with his guards.
Mr Obado was at it again when he openly opposed ODM, and by extension Mr Odinga's choice of Mr Ayacko to run for the vacant Migori senatorial seat following the death of former radio broadcaster Ben Oluoch Okelo mid this year.
Obado, the schemer, is in murky waters again! Okoth Obado has been charged in court with aiding and abetting the brutal murder of his ex-girlfriend, a pregnant student. But, Obado has vehemently refuted any involvement in the killing of Sharon Otieno.  "As a law-abiding citizen, I want to state here clearly and categorically that I have nothing and absolutely nothing to do with the cruel death of Sharon," the governor was quoted by local media as saying.
If Obado wades through the murky waters and come out unscathed, then and only then, he will own the tag of being 'a smart Schemer' to posterity. Already, protests have been held in Migori, probing for the immediate release of the Governor.'
You may also like…..
https://newsblaze.co.ke/okoth/