DUSITD2 HOTEL ATTACK- What is known so far;
Attackers forced their way into the 14 Riverside Drive by indiscriminately shooting at the guards, today afternoon. They then threw explosives into vehicles and went into DusitD2 hotel. So far, one suspect has been arrested and many people rescued. Inspector General of police, Joseph Boinnet, has given a presser saying the attackers are suspected to be terrorists. Terror Group, Al-Shabaab, has claimed responsibility. Casualties have been reported, with a woman who sustained injuries succumbing at a hospital in Nairobi.
Those receiving any information (rescue requests) to share with:
The Director of Criminal Investigations on: 0721141282 or 0722839978
RedCross on: 0715820219.
University of Nairobi: HELP CALL HOTLINE: 020 491 3115/4, 020 491 0000 or Mobile: 0721 581 030, 0722 825826
The rescue operations are ongoing. A number of individuals have been rescued, so far. State House has urged restraint in sharing clips from the attack, on social media platforms. See the screen shot below: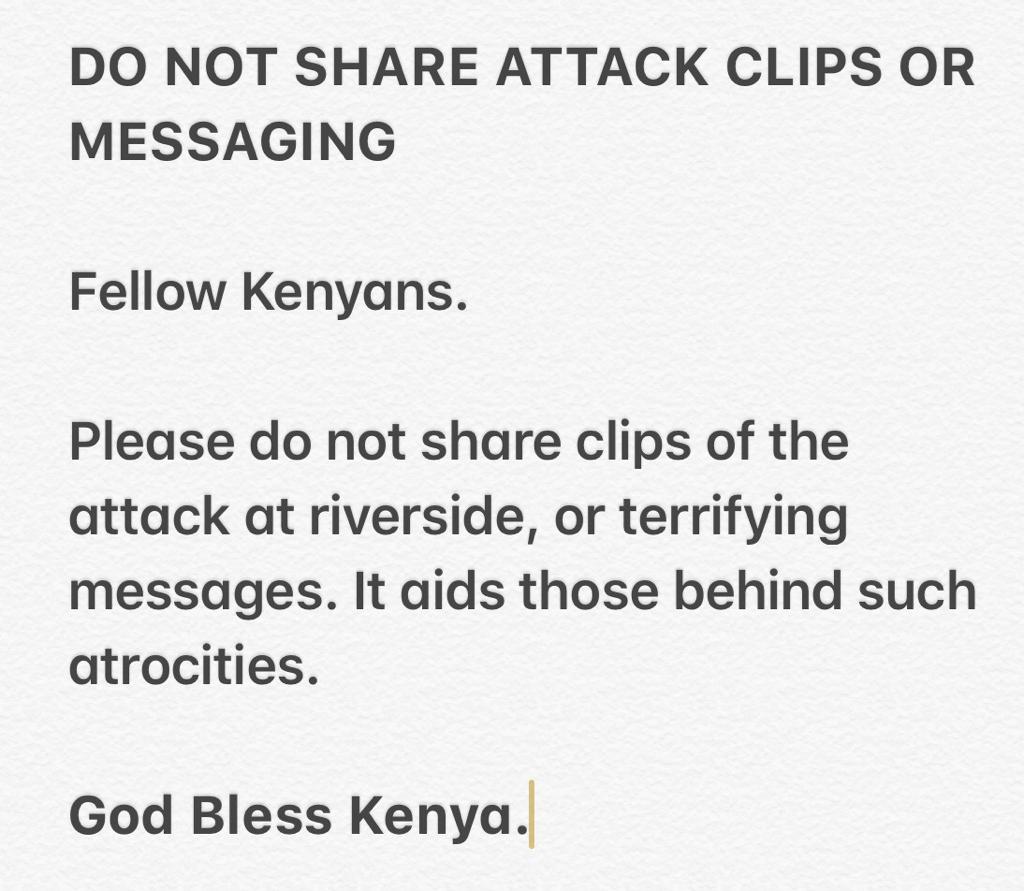 This is the police statement on the attack:
PRESS STATEMENT
We regret to confirm that at approximately 3pm today, a group of armed assailants attacked the Dusit Complex in a suspected terror attack. Security and emergency teams immediately responded to the incident and have cordoned off the area. The situation is being managed and residents are being screened and evacuated from the area. We are aware that armed criminals are holding up in the hotel and specialist forces are now currently flushing them out.
However we regret to inform that there have been injuries in the attack and we are in the process of confirming the numbers and types of injuries incurred. We have been vigilant throughout the holiday season and therefore all public and other hotel premises remain under close watch. Reports from throughout the country indicate that everything remains calm and normal. We urge the public to remain calm and to cooperate with all security forces and to provide any information that they may deem as useful to the security forces.
We thank you for your cooperation. Further information will be provided as soon as it is available.
Joseph K. Boinnet, MGH (nsc) AU Inspector General National Police Service. Tuesday, 15th January, 2019