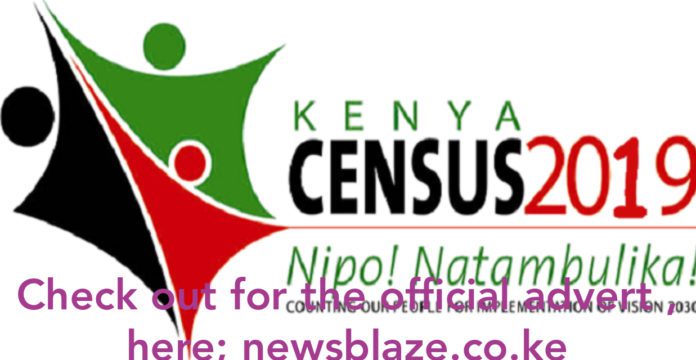 Here is a presser from the Kenya National Bureau of Statistics, knbs, on the training of content supervisors and Census enumerators.
"As the training for Content Supervisors end, we are proceeding to undertake training of Enumerators after which we proceed to supervise actual census enumeration. You are, hereby, informed on the following.
Training for Enumerators
Training for Enumerators will be starting at 8.00am to 5.00pm every day as from 14th to 20th August, 2019 (a period of 7 days) for all the counties except for ASAL Counties where they will check in on the evening of 13th August, 2019 and check out on 21st August, 2019;
All participants (trainees and trainers) are expected to report on time and be present for all the training days;
The training centres for Enumerator's will be done mostly at Divisional level and at public schools.
During the training of Enumerators, all the Content Supervisors with the support of the ICT Supervisors will be expected to train enumerators while making all the references to the Enumerators manual;
Further, you are expected to communicate all the corrections made in the Enumerators manual to the Enumerators while training them.
Accommodation/Meals
As communicated to you earlier, Training of Enumerators will be NON-RESIDENTIAL in all the Counties except for ASAL Counties/regions where enumerators will be on full board;
ICT and Content Supervisors will be expected to make arrangements for THEIR OWN ACCOMMODATION during training of Enumerators;
During training of Enumerators the ICT and Content Supervisors will be entitled to Ksh 3,000 and Ksh 2,500 (less statutory deductions), respectively, for 8 days which will be paid later after successful completion of census enumeration;
An advance payment of 5 days (Ksh. 15,000 for ICT Supervisors and Ksh 12,500 for Content Supervisors) that was communicated during the opening of this training is being processed and will be sent to your respective bank accounts which you have already provided and confirmed. Further, you are reminded that this payment will be deducted from your net pay after completion of the census enumeration;
During training of enumerators, all the trainers and Supervisors will be expected to arrange for of all their meals and will not be provided by the training centres.
Enumerators will be paid a lunch allowance of Ksh.150 for 7 days for which they will arrange for their meals. The payments will be done during the training. This will not be applicable to those in ASAL who will be on full board.
Transport
As indicated during the beginning of this training;
During the training of enumerators, ICT and Content Supervisors will be provided with daily transport allowance of Ksh150 for 8 days;
Enumerators will be paid Ksh.150 for 7 days as daily fare and will be paid in the course of their training. Those in ASAL on full board will have only two-way fare refunds.
Materials
You are reminded to ensure that all the training materials issued to you are kept safe till the end of enumeration exercise. You will be required to use them during training of Enumerators and during data collection (you will not be provided with any extra);
The Content supervisors will be expected to assist the ICT Supervisors in distribution and issuance of materials to the enumerators as from 14th August, 2019
Mobile Devices:
The mobile devices are already in all the counties and they will be issued to Enumerators on day 3 of training.
Issuance will use Form A (Delivery Note) and Form B (Tablet Issuance Form). All these must be fully filled and duly signed.
Power banks/solar chargers will be issued during the enumerators training.
It will be the responsibility of the Content Supervisors to ensure that all the Enumerators under them are issued with all the required mobile devices and at the end of the exercise the Content Supervisors will be expected to collect all the mobile devices and surrender them to their respective ICT supervisors who will in turn be expected to surrender the same to the CSO.
Other Materials
The enumerators' manuals are available at the counties and will be dispatched to various enumerators training centres before start of training. ICT/Content Supervisors will be expected to ensure all the enumerators are issued with them and on time;
The remaining materials for use during enumeration that include ID badges, Field Bags, Reflector Jackets, Felt Pens, Chalk, Call back cards, travelers cards, Structure numbering cards (for ASAL) will be issued at the end of Enumerators' Training.
Personnel Details:
All participants in the training MUST sign attendance registers on a daily basis (morning and afternoon) and all the documents should be handed over to CSO/CSO Representative at end of trainings. A standard format with pre-printed names will be availed.
All personnel will be issued with Biodata forms, which must be filled within the first two days of training. All necessary attachments will be required.
All trainees shall be expected to take oath of secrecy and those who successfully complete the trainings sign the contracts before deployment.
All details including: name, ID Number, Tel No. bank accounts etc. must be captured in a standard template and verified by all trainees before end of training.
Other Information:
The CSO/Sub County CSO Representative will provide secretariat staff to assist in logistics of registration and maintaining of records during trainings.
As indicated earlier, after training of Enumerators all the teams will travel on 21st August, 2019 to the various Enumeration Areas in readiness for pre-enumeration listing of Households, which is expected to be done on 22nd and 23rd August, 2019;
After training of Enumerators, ICT and Content Supervisors will be provided with transport reimbursement of Ksh. 2,000 and Ksh 1,500, respectively, per day for 11 days to facilitate them while supervising pre-enumeration household listing and actual census enumeration;
All payments shall be made by CSO through the Sub County CSO Representatives.
Conduct of Census Personnel
All cadres of census personnel are expected to portray a high sense of discipline during training and during the actual census enumeration. A few cases of drunkenness, late arrival to the training venues and/or absenteeism have been noted and should not be tolerated at all.
Any such behavior should be reported to the County Statistics Officer or to the training centre Coordinator for immediate action.
You are reminded to adhere to Oath of Secrecy and ensure confidentiality of the information collected as require by the Statistics Act, 2006. Further, you are requested to protect the image of the Government of Kenya and KNBS as you embark on your assigned duties and responsibilities.
Also read;