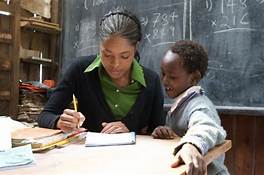 It is a desolate festive season for thousands of teachers countrywide employed by the Schools' Boards of Management, BOM, after principals moved to implement the tough regulations by the Ministry of Education. The ministry of education has re-affirmed its earlier circular for principals to engage only teachers who meet set qualifications. According to the Education Ministry, schools are expected to rationalize the recruitment of BOM staff to minimize the cost of secondary education. "It is also important for schools to hire persons who are qualified for the jobs," Says the education principal secretary, Dr. Belio kipsang, in a circular dated 25th October, 2018.
And most schools have now implemented the guidelines by terminating the contracts of the current BOM teachers. According to communique sent to some of these teachers and seen by our crew, the BOM teachers are expected to reapply afresh and must attach all necessary documents for reconsideration in January, 2019. This means that such teachers will go minus the November and December Salaries as they await reconsideration next year. Read also: TSC's new guidelines on registration and recruitment of teachers, 2018
"I hereby inform you that your current contract has been terminated, forthwith. You are hereby asked to reapply for reconsideration in January, 2019. Please attach all supportive testimonials and credentials (including the Teachers Service Commission, TSC,registration certificate) when re-applying. In the meantime, you are asked to immediately surrender any school property at your disposal, including textbooks. Please formally clear with us before 12th November, 2018," reads, in part, a memo sent to a BOM teacher by a principal.
In another school, the principal did not have kind words to her Board of Management (BOM) teachers when dismissing them. Below is an extract from the dismissal letter:
"The Board of Management of the school appreciates very much the kind efforts you've made which really complemented the few TSC teachers in school. Thank you for this. However, I regret to let you know that though we have endeavored throughout the year to pay the honoraria as was due to you, we are now unable to continue during this 2 month vacation. As we continue to remind the TSC on the serious shortage we have, kindly prepare to apply should they advertise your subjects. Also remain in touch with the school in the New Year (2019) should a chance be available and you too also available. Kindly remember to collect your due for October (2018)."
It is alleged that some principals have tendencies of firing BOM teachers during vacations only to re-recruit them when the new term begins; in a bid to save on salaries that the teachers could have received during such vacations.
SOME VOW NOT TO REAPPLY FOR THE BOM JOBS
"Am completely surprised by this move by my principal (to terminate my BOM contract). I had financial obligations to meet this holiday. This means I will not accomplish them since I will not be receiving my November and December salaries," said an emotional John* (not real name), when he spoke to us. John* vows not to reapply for the teaching post at his current working station citing mistreatment. "I will not reapply for the job (BOM teaching job) at my current station. I may wait until TSC advertises for permanent recruitment. For now, I want to indulge in business to fend for my self and family," added John*. For him, the principal broke the sad news about his contract's termination via an SMS; which he showed to our crew.
Initially, the ministry of Education disbursed Kshs. 5,755 for Personal Emoluments to each secondary School student per year. such funds are then used by schools to meet the salaries and wages needs for the BOM staff. The Vote head has now been collapsed and assimilated to the newly created vote head; Other vote heads. Read full details here: Ministry of Education releases new guidelines on implementation of free Day Secondary Education for 2019
BOM teachers face a myriad of challenges including, but not limited to: Payment of Un-harmonized salaries by different schools and regular termination of their contracts.
Related content: