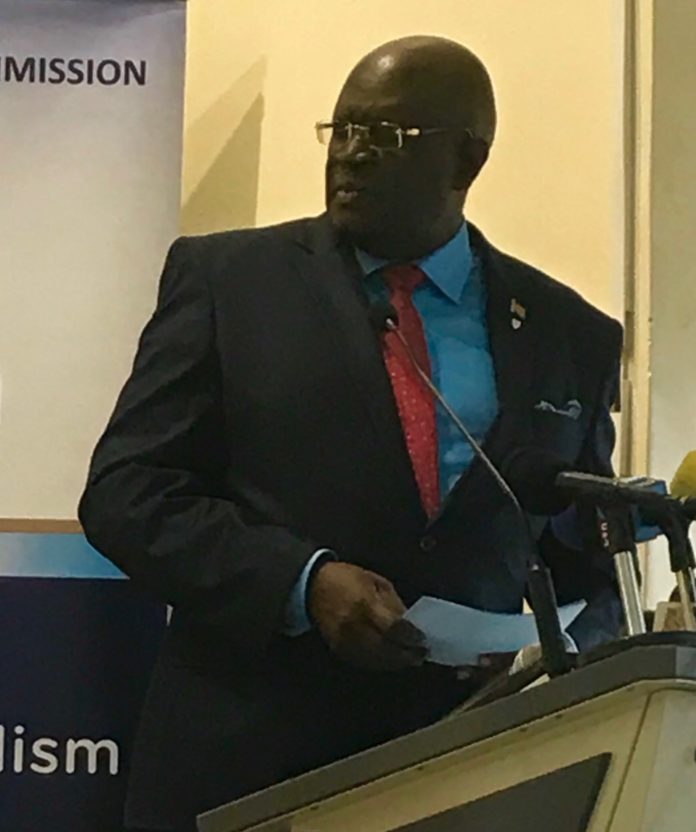 Here is the full speech by Education Cabinet Secretary Prof George Magoha during the launch of the April, 2019, new Curriculum training for teachers at Uhuru Gardens Primary in Nairobi; on Tuesday 23rd April, 2019.
"It gives me great pleasure to welcome you all to this launch of the national training programme for teachers on the Competency Based Curriculum (CBC) that we rolled out in January this year.

First, on behalf of the Government of Kenya, I wish to thank the teams that in one way or the other made the rollout of the CBC in the First Term successful to an extent that we ashamed a few prophets of doom who thought that we were set for failure. I, therefore, wish to declare the 2019 national rollout of the CBC in Pre-Primary 1 & 2, and Grade 1, 2 & 3 this year an astounding success.

I wish to thank the Teachers Service Commission (TSC), Chief Executive Officer, Dr. Nancy Macharia who represents the employer of all the 91,000 teachers that will undergo the training this week. I also wish to recognise the efforts of the State Department of Early Learning and Basic Education led by our able Principal Secretary, Dr. Belio Kipsang, and the Kenya Institute of Curriculum Development (KICD) Chief Executive Officer, Dr. Julius Jwan, and Ag. CEO, KNEC Dr. Mercy Karogo for ensuring that the nuts and bolts of this curriculum are tightened up each day. I also appreciate all the relevant organisations and government departments for their invaluable contribution towards todays successful launch of the national teacher training.
From the high number of teachers that will be trained this week as outlined by TSC CEO, Dr. Nancy Macharia (91,000), it is clear that we are committed to fully and successfully implement the CBC. We will do everything possible within our means to tick all the right boxes necessary and leave no stone unturned to ensure the CBC succeeds. We will not turn back; neither shall we slow down an inch in our determination to ensure the CBC succeeds 100 per cent.

Resolve to Working in Joint Teams

Assembled here today are all critical staff arguably top brains in Government drawn from the Ministry (headquarters and SAGAs) and the TSC. This launch is replicated in all zones in the 47 counties of this country. Dr Nancy Macharia and I have resolved that all the officers must now share all government resources available to deliver the CBC as ONE. We shall not tolerate cases where staff of the Ministry fail to coordinate their activities jointly with the TSC. I shall take stern action against my staff who will be reported as having failed to cooperate with those of the TSC in discharging education duties to learners. We must comply with His Excellency, the President, Uhuru Kenyattas order that we work together to deliver services to every Kenyan child. I will personally be part of the teams that will travel to various counties to monitor this exercise to ensure it goes as planned.

Context and Rationale for the Competency-Based Curriculum

I wish to assure all the stakeholders – parents, guardians, teachers, and all other implementers – that the country is transitioning to one of the most vibrant and world-class curricula ever. In particular, since January when we rolled out the CBC in the Early Years of Education, we have started to walk to an education curriculum that:
Focuses less on content but more on acquisition of competencies
Focuses less on summative assessment but more on a balance between formative and summative assessments.
Emphasises less on schooling but more on education.
Focuses less on teaching but more of learning.
In Senior Secondary school, the curriculum will be flexible with opportunities for specialization based on the learners abilities and career interests.
CBC has been implemented in may counties including Canada, India, Finland, Malaysia, China, Rwanda, South Africa, Zambia, South Sudan and Malawi among others.
Arising from the above, it is clear that the CBC will transform the country by identifying the potential that children have and nurturing this through a curriculum that is designed to emphasise application of knowledge rather than its mere acquisition.
Learning will also be transformed to emphasise acquisition of 21st Century skills. This will make graduates of our education system globally competitive and thrive within the areas and careers that are aligned to their talents and interest.
The 2020 Implementation Plan in Grade 4
Next year, the CBC will be implemented in Grade 4. I assure the country that we are determined to run the show in a most versatile and methodical approach that will ensure no missteps are encountered on the way. Working with the TSC, I am assuring the country that we will by September 2019 have a clear masterplan for rolling out the CBC in Class Four next year.
Today, we are launching the national training of teachers of Grade I to III, and Grade IV from public and private schools. That the training targets teachers from both public and private schools is a clear testimony that the Government doesnt discriminate between categories of schools. There is no public or private child; all learners must therefore be catered for.
This training will be followed by a rigorous ICT-based continuous support for the teachers. The online training approach will be flexible to allow the teachers to learn at their own pace and time with support from Online Tutors. The training will focus on capacity development both in the CBC.
The Ministry will ensure that we follow up the training with a solid monitoring and evaluation process in schools in order to establish areas where implementers need further support. This will be addressed through both the Online training programme and the next trainings in August and December.
I want to call upon all teachers, parents and other stakeholders to give this training time their undivided attention.
Curriculum designs
The Government through KICD has developed curriculum designs for Early Years Education as part of the curriculum reform. The Basic Education Framework has also been developed to help educational stakeholders better understand the curriculum to enhance efficient curriculum implementation and delivery.

The Ministry has also developed a Curriculum Policy and an Assessment Framework documents that will be launched soon. You also are aware that the Ministry has presented to Parliament a Sessional Paper, which will anchor the education sector, including the CBC.

Purpose of the trainings

The trainings we have been mounting target critical pools of staff that will steer the process of CBC rollout. In particular, we have ensured that the trainings:
Prepare education officers, curriculum implementers (teachers), supervisors and evaluators for effective CBC implementation.
To equip teachers with necessary skills to implement the Competency Based Curriculum
Equip Quality Assurance and Standards officers and other education officers with skills to supervise and support effective implementation of CBC.
Provide a common understanding of the concepts of CBC.
To equip teachers to facilitate Differentiated Learning to ensure that all learners are wholly engaged in learning.
The training will focus on the Basic Education Framework, Special Needs Education, Interpretation of the Curriculum Designs, preparation and use of Professional Documents, Integration of ICT in curriculum implementation and the Competency Based Assessment.
I now take this opportunity to launch this nationwide training and wish you a successful four-days exercise."