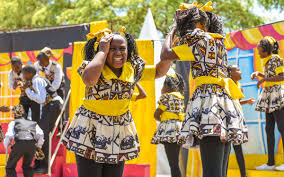 The Ministry of Education has released this year's Drama and Film Festival calendar. According to a circular released on Friday, last week, the Nationals shall be staged at Kibabii University in Bungoma, Western region. "This year's Kenya National Drama and Film Festival, National level, will be held at Kibabii University, Bungoma County in Western Region from 3rd to 13th April, 2019. Preparations are ongoing to make the experience memorable," reads, in part, the circular by P.S Khaemba for the Ministry's Basic Education Principal Secretary.
This year's edition goes to Western after Nairobi region hosted last year's edition at Lenana school.
According to the Ministry, Sub- Counties should have their drama championships by 16th February, 2019. While Counties and Regions will have their championships by 2nd March, 2019 and 16th March. 2019 respectively.
"Do ensure that the festivals are held within the scheduled dates to enhance the efficient running of the festival," adds Khaemba in the circular copied to all Regional Coordinators of Education, County Directors of Education, Sub county Directors of Education, Principals of Tertiary Institutions and Universities' Vice Chancellors.
Meanwhile, the Nyanza region drama workshop will kick off on Wednesday this week at Kisii school; in Kisii County. The events that runs up to Sunday, 20th January, 2019 will see drama trainers horn their skills in the following areas: Verses, Narratives, Plays, Cultural Dances, stand up comedy, Spoken word, modern dance, film and adjudication. The trainees are expected to pay Kshs 2,500 as participation fees.
"Heads of schools and colleges are kindly requested to facilitate teachers of drama in terms of transport, subsistence and accommodation to enable them attend the training," says the Nyanza Regional Coordinator of Education, Richard Limo Chepkawai, via a circular dated 19th December, 2018. Other Regions are also expected to stage their respective training sessions ahead of the 2019 action.