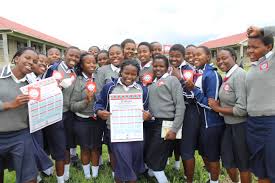 2018 Digital Essay Competition: Secondary Schools' Winners and Finalists
The Prize Giving Ceremony for the 6th Annual Digital Essay Competition (DEC) for Secondary School in mainstream and learners with disabilities was held on Wednesday 26th September 2018 from 10 am to 1 pm during the Nairobi International Book Fair at Sarit Center, Westlands Nairobi. In attendance were invited guests, partners and sponsors, publishers, parents, teachers, students, among others.
Among the guests in attendance was Lydia Kyalo from Kenya Institute for the Blind, Eloi Mercamp from the French Embassy in Kenya, Martin Kieti from Perkins School for the Blind, Lydia Chege from Kenya Institute of Special Education, Dorice Kachipela from Education Development Trust
This year the competition received over 13,000 essays from students across the country representing a 146.3% increase from 5,305 submissions in 2017. All Winners and Finalists were awarded Computer Devices, Scholarship Money, Gift Hampers, Certificates, Public Recognition among other gifts.
This year, students were answering the question: "How can technology bring us closer to quality education for all Or Ni vipi teknolojia inaweza kutufikisha karibu na elimu bora kwa wote OR Comment la technologie peut-elle nous rapprocher d'une éducation de qualité pour tous? Participating students came from 358 schools in 43 out of Kenya's 47 counties.
Top Winners in Secondary Level
Rael Mitchel Murila Grand Prize Winner Kiswahili Category from Lugulu Girls High School in Bungoma County
John Masyuki Grand Prize Winner Kiswahili Category for Learners with Disabilities from Thika High School for the Blind in Kiambu County
Darvyne Agnes Wakarindi Ndegwa Grand Prize Winner English Category from Loreto High School in Kiambu County
Hezborn Muiru Grand Prize Winner English Category for Learners with Disabilities from Thika High School for the Blind in Kiambu County
Benson Angote Ong'anya Grand Prize Winner French Category from Starehe Boys' Centre and School in Nairobi County
John Mwangi Grand Prize Winner French Category for Learners with Disabilities from Thika High School for the Blind in Kiambu County
Kisangi Tlavian Savatia Grand Prize Winner Art Category from Nyangori Boys High School  in Vihiga County
Joshua Munyoki Maswili Grand Prize Winner Art Category for Learners with Disabilities from Thika High School for The Blind in Kiambu County
Download full list of finalists and winners by clicking on the link below:
You may also like:
Offences that may lead to interdiction/ disciplinary action by the TSC
https://newsblaze.co.ke/tsc-professional-mis-conductoffences-offences-that-can-lead-to-interdiction-disciplinary-action-economic-crimes-and-serious-offences/