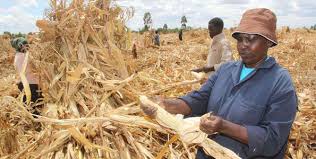 The Kenyan cabinet sitting yesterday, Thursday 22nd November 2018, approved the purchase of two million bags of maize at KShs. 2,300 per a 90 kilogram bag to the National Cereals and Produce Board, NCBP. The farmers had earlier rejected the price tag and were demanding for KShs. 3,200 per bag of maize.
Here is the presser from State House after yesterday's resolution:
The Cabinet today (Thursday 22nd November 2018) approved the purchase of 2 million bags of maize from local farmers at a price of Shs 2300 per bag.
A Cabinet meeting chaired by President Uhuru Kenyatta at State House Nairobi and attended by Deputy President William Ruto approved proposals by the Ministry of Agriculture to purchase the maize as part of the ongoing proactive efforts by the Government to support local farmers.
In recent months, the President has called for urgent interventions to protect local maize farmers from market challenges including delayed payments.
Today's Cabinet decision is a major relief to local farmers who have been raising concerns about the lack of an assured local market for their produce.
You may also like:
Why you must think twice before taking your favourite Snacks: Mandazi and Chapatis this festive season
Statement by Hon. Mwangi Kiunjuri, CS Agriculture, on the status of maize payments