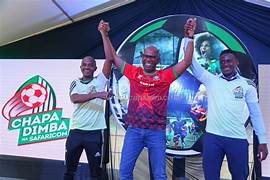 The giant Telecommunications company in Kenya, Safaricom, has launched season two of its Soccer Bonanza christened, 'CHAPA DIMBA NA SAFARICOM'. The tournament was officially launched today with curtain raising matches at Woodley Grounds, Kibra, Nairobi. Last season saw Plateau Queens of Nyanza and Kapenguria heroes from the Rift valley win the inaugural Chapa Dimba Na Safaricom Championship in the girls and boys categories, respectively. The two teams went home with one million Kenya shillings each and atrip to London.
This year's tournament 'will still be on the look out for talent from the grass roots as we seek to offer them a platform to showcase their capabilities and possibly earn a call up to the national team', says Safaricom.
HOW TO REGISTER
Registration forms will be available at FKF offices, Safaricom Shops and online at http://chapadimba.safaricom.co.ke . The group stages will be played at the grassroots level with successful teams qualifying for the regional finals across the eight regions. To register your team for Chapa Dimba Na Safaricom or know more about the competition, dial *455# from a Safaricom line. Once complete drop your form off at your nearest FKF Branch Offices
Successful teams will be notified through a published list the Safaricom website on 5thOctober 2018.
Winners of the regional final will then get a cash prize and a chance to play at the National final. Winners at the National finals will still walk home with a cash prize of one million Kenya Shillings, per team.
Download the Registration form here for Registartion requirements, Rules and Terms & Regulations of Participation. Chapa Dimba Na Safaricom Registration Form
MORE GOODIES FOR WINNERS
Safaricom announces that they have this year signed a partnership with La-Liga; the home of the likes of Messi, Suarez and Karim Benzema. The partnership involves a scouting program that will see certified La-Liga coaches travel to Kenya to search for talented players, both boys and girls, who will make up an all-star team. The lucky players in the all-Star team shall attend a ten day training camp in Spain and will also get to play a few friendly games against top Spanish La-Liga academies.
The Chapa Dimba Na Safaricom Football Tournament aims to recruit young talent aged 16 -20 year olds to play in a national tournament, showcase their talent and stand a chance to earn from their passion by winning prize money worth Ksh 1 million.
The tournament will be open to participation from both Boys and Girls Teams and will kick off with a national registration in the following regions: Nairobi, Eastern, Western, Nyanza, Rift, Coast, Central and North Eastern.
For any further queries email:  chapadimba@safaricom.co.ke or call 0713-444111 or 0715-444111.
Download the Registration form here for Registartion requirements, Rules and Terms & Regulations of Participation: Chapa Dimba Na Safaricom Registration Form