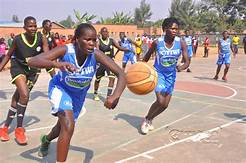 This year's Kenya Secondary Schools term one games kick off on Tuesday 9th April, 2019. The games featuring basketball, handball, hockey, rugby 7'5, Athletics, Rugby 15's, Cross Country and swimming are being hosted at Shimo La Tewa High School and Shanzu Teachers Training College in Mombasa County. According to the Programme of events released by the Kenya Secondary Schools Sports Association, KSSSA, Referees shall have a one day coordination clinic on Monday 8th april, 2019, in readiness for action the following day. The General Programme for this year's championship shall be as follows:
Monday 8th April, 2019: Coordination Clinics for referees.
Tuesday 9th April, 2019: Preliminary matches Day one
Wednesday 10th April, 2019: Preliminaries Day two, Swimming Day One and Cross Country .
Thursday 11th April, 2019: Final preliminary matches, Swimming Day Two and Athletics Day One.
Friday 12th April, 2019: Athletics Day Two and Semi Finals.
Saturday 13th April, 2019: Play offs and Finals.
Teams take to the fields of play on Tuesday morning as they battle for tickets to this year's Federation of East Africa Secondary Schools Sports Association, FEASSSA, games that will be held at Arusha, Tanzania, in August. In Girls basketball, holders Kaya Tiwi from the Coast Region will open their title defence against Mua Girls from the Coast Region. In the boys' category, Champions Laiser Hill from the Rift Valley Region will face off with hosts Aga Khan Academy in their opening pool A clash.
HERE ARE THE FIXTURES FOR GAMES TO BE PLAYED ON TUESDAY 9TH APRIL, 2019- DAY ONE.
RUGBY 15'S
1. Kwale vs Maseno at 10.00am
2. Alliance vs Dagoretti at 10.50am
3. Kangaru vs Galana at 11.40pm
4. Kakamega vs Kabianga at 12.30pm
RUGBY 7'S
1. Laiser Hill vs Chianda at 1.20pm
2. Muvuti vs St. Mary's at 1.38pm
3. St. Peters vs Agoro Sare at 1.56pm
4. Muhuri Muchiri vs Khamisi at 2.13pm
5. Vihiga vs Barani at 3.31pm
6. Shimba Hills vs Thika High at 3.49pm
7. Upper Hill vs Katwanyaa at 3.07pm
8. Menengai vs Kerugoya at 3.25pm

HOCKEY- BOYS
1. St. Charles vs Kamusinga
2. Homa Bay High vs Nairobi School
3. St. Georges vs St. Anthony's
4. Meru School vs Mpesa Foundation Academy.

HOCKEY- GIRLS
1. St Johns Girls vs Nyamira Girls
2. St Joseph Kibwezi Girls vs St Mary's Taachasis
3. Bura Girls vs Kerugoya
4. St. Cecilia Misikhu vs Hillcrest

HANDBALL- BOYS
1. Saniak vs Mang'u
2. Hospital Hill vs White House
3. Mbooni vs Kimilili
4. Garissa High vs Kanyawanga

HANDBALL- GIRLS
1. Kahuho vs Sega
2. Volunteer Girls vs Kirandich
3. Kamusinga vs White House
4. Dagoretti Mixed vs Kirigara.


BASKETBALL- BOYS
1. Darul Hikma VS Alliance
2. Agha Khan Academy vs Laiser Hill
3. Agoro Sare vs Sigalame
4. Mururiiri vs Dagoretti

BASKETBALL- GIRLS
1. Wajir Girls vs St. Brigids
2. Tigoi vs Barchando
3. Loreto vs Buru Buru
4. Mua Girls vs Kaya Tiwi.


READ ALSO: