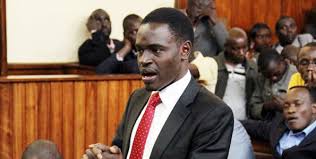 A Popular and flamboyant lawyer has pledged to represent the arrested boys from Ambira High School in court. The boys were caught in camera hurling abuses at Cabinet Secretaries Dr. Amina Mohammed (Education) and Dr. Fred Matiang'i (Interior).
The eight boys who appeared before Ukwala resident magistrate Gladys Adhiambo, yesterday, did not take a plea after the prosecution requested for one week for investigations to be carried out. The boys will be locked up at Ugunja police station until 3rd December 2018, when the case will be mentioned in the same court.
Lawyer Nelson Havi has now decided to represent the boys in court and is calling out for contacts to the parents and/ or guardians to the eight boys. "We have offered to act for the 8 Ambira High School boys. If you know the identities and contacts of their parents or guardians, please notify us ASAP (immediately). We cannot have a high handed executive decision to punish children and a more than willing Court assisting in the transgression," said Nelson Havi.
The lawyer shot to fame as one of the lawyers who represented The National Super Alliance, NASA, in the 2017 General election petition. He has also represented one of the top government critic and Lawyer, Dr. Miguna Miguna, who was deported to Canada, few months ago.
The lawyer says the police over reacted by arresting the boys instead of subjecting them to Guidance and Counselling. "The boys should have been give four strokes of the cane each and ordered to uproot the biggest tree stumps in the County. I am sure that is what my High School Headmaster Bokasa and Provincial Education Officer Kavuludi would have decreed. It is not a matter to involve the State," the lawyer advised.
You may also like:
List of the Approved new, Competency Based, Curriculum (CBC) books for grade 1, 2 and 3