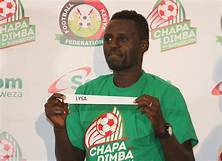 All queries on Chapa Dimba na Safaricom answered:
WHAT IS CHAPA DIMBA NA SAFARICOM?
CHAPA DIMBA NA SAFARICOM is a national football tournament for male and female youth aged between 16-20 years. The aims of the tournament are to transform the lives of young people by giving them a platform to showcase their talent and an opportunity to earn from their passion.
HOW WILL THE TOURNAMENT RUN?
» The Tournament will kick off with a national registration in the following regions: Nairobi, Eastern, Western, Nyanza, Rift Valley, Coast, Central and North Eastern.
» Each team will comprise of 15 players and 2 officials for the group stages. Proceeding  teams will thereafter be allowed to recruit 3 additional players for the next level.
» Registration will be open from 15th September and will close on 5th October, 2018.
» To find out if your team has been successful in the vetting process visit www.chapadimba.safaricom.co.ke from 8th October.
» Group Fixtures will take place from October 2018 and communication will be updated on our website with key dates and locations.
» The Boys Tournament will be played in 5 Stages – Group Stage 1, Group Stage 2, Round of 16 (Knockout Basis), Regional Finals and National Finals.
» The Girls Tournament will be played in 5 Stages – Group Stage 1, Group Stage 2, Quarter Finals (Knockout Basis), Regional Finals and National Finals.
» Each Regional Winner (Boys and Girls) will proceed to the National Tournament.
» FIFA Rules will apply – any variations will be communicated to the teams before start of tournament.
» THE REFEREES DECISION WILL BE FINAL.
WHAT ARE THE BENEFITS OF CHAPA DIMBA NA SAFARICOM?
» Get to participate in a National Youth League Tournament.
» Get the opportunity to showcase your talent and stand a chance to get scouted by the Football Kenya Federation Talent Scouts to the National U-17 and U-20 Kenya Team and La Liga scouts to be one of the All Star players selected to attend a 10 day bootcamp in Madrid, Spain and play against top La Liga youth teams.
WHAT IS THE CALENDAR OF ACTIVITIES FOR THE TOURNAMENT?
Group Stages
Western 13th October to 18th November, 2018
Nyanza 3rd November to 9th December, 2018
Rift Valley 20th November to 10th February, 2019
Eastern 12th January to 17th February, 2019
Coast 16th February to 17th March, 2019
Central 23rd February to 24th March, 2019
N.Eastern 2nd February to 30th March, 2019
Nairobi 23rd March to 28th April, 2019
Regional Finals
Western 1st – 2nd December, 2018
Nyanza 16th – 17th December, 2018
Eastern 23rd – 24th February, 2019
Rift Valley 9th – 10th March, 2019
Coast 23rd to 24th March, 2019
North Eastern 6th – 7th April, 2019
Central 20th – 21st April, 2019
Nairobi 3rd – 4th May, 2019
National Finals 
Finale 23rd to 26th May, 2019
HOW DO I REGISTER MY TEAM TO PARTICIPATE?
There are three ways to obtain registration forms:
Download a form from the Safaricom website: www.chapadimba.safaricom.co.ke
Collect a form from your nearest Safaricom Shop.
Collect forms from your local FKF Branch Office.
All forms must be completed and fully signed off with the required necessary documentation and dropped off at your local FKF Branch Office.
IS THERE A COST TO REGISTER/PARTICIPATE?
NO – registration is completely free. You should not pay for a registration form.
They are available free at all Safaricom Shops and local Football Kenya Federation Branch Offices.
CAN I ATTEND THE GAMES IF I AM NOT A PLAYER?
Yes – the games are open for fans to come and cheer their favourite teams.
WHAT DOES THE WINNING TEAM WIN?
The winning team, both boys and girls, will win KShs. 1 million.
In addition, we will disburse prize money as per below:
REGIONAL CASH PRIZES  
Boys Winner KShs. 200,000.00
Boys Runners Up KShs. 100,000.00
Boys Best Player KShs. 30,000.00
Boys Top Scorer KShs. 30,000.00
Boys Best Keeper KShs. 30,000.00
Girls Winner KShs. 200,000.00
Girls Runner Up KShs. 100,000.00
Girls Top Scorer KShs. 30,000.00
Girls Best Player KShs. 30,000.00
Girls Best Keeper KShs. 30,000.00
Total per Region KShs. 780,000.00
Total for 8 Regions KShs. 6,240,000.00
NATIONAL CASH PRIZES
Boys Winner KShs. 1,000,000.00
Boys Runners Up KShs. 500,000.00
Boys Losing Semi Finalists (KShs. 250,000 each) KShs. 500,000.00
Boys Most Disciplined Team KShs. 100,000.00
Boys Best Player KShs. 50,000.00
Boys Top Scorer KShs. 50,000.00
Boys Best Keeper KShs. 50,000.00
Girls Winner KShs. 1,000,000.00
Girls Runners Up KShs. 500,000.00
Girls Losing Semi Finalists (KShs. 250,000 each) KShs. 500,000.00
Girls Most Disciplined Team KShs. 100,000.00
Girls Best Player KShs. 50,000.00
Girls Top Scorer KShs. 50,000.00
Girls Best Keeper KShs. 50,000.00
Total for National KShs. 4,500,000.00
Add total for Regional KShs. 6,240,000.00
TOTAL CASH PRIZE KShs. 10,740,000.00