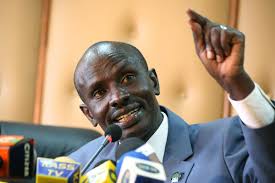 The Kenya National Union of Teachers, KNUT, has issued a threat to take unspecified action if the Teachers service Commission, TSC, does not call them to a meeting in a span of seven days. This comes after the TSC wrote to KNUT, on 17th October 2018, postponing talks that were to be held today (Friday 19 October, 2018); between TSC AND KNUT. Read more details here: TSC Cancels Meeting with KNUT.
In a letter dated 18th October 2018, the KNUT Secretary, Hon. Wilson Sossion, blames TSC for mistrust and mischief over the latter's move to cancel today's talks. Today's meeting was to highlight unresolved industrial issues raised by KNUT. The two sides failed to agree on these issues when they met in Naivasha few weeks ago. "You will note that as early as July 2018, we formally raised several pertinent issues affecting harmonious industrial relationships which called for urgent interventions," says Sossion in the letter addressed to the TSC Chief Executive Officer, Dr. Nancy Njeri Macharia. Related content: Education cs urges KNUT and TSC to drop hard line stands
"Flowing from the said issues and demands, a meeting was convened on 24th August, 2018, after protracted exchange where certain agreed issues were tabled and way forward agreed. This way forward was to have a retreat in Naivasha where there aborted discussions owing to (the) hard line and unreasonable position taken by (the) Teachers Service Commission (TSC)," Sossion adds. The KNUT Secretary General says that the two sides had on 6th September, 2017, agreed that promotions of teachers by the TSC was mandatory. But, he blames TSC for renegading on this position and introducing 'CPG Policies and Appraisals which utterly contradicts the Collective Bargaining Agreement (CBA) and code of Regulations for Teachers (CORT), hence illegal.'
Teachers with higher qualifications have been waiting in the cold since 2014 when the TSC freezed promotions on attainment of higher qualifications. KNUT projects the numbers of such teachers at about 30,000. On Tuesday, this week, the KNUT Deputy Secretary General, Mr. Hesbon Otieno, issued a memo to all branch secretaries to collect data on teachers who had submitted their higher qualification credentials to the TSC for promotion. Read more details here: KNUT to collect data for teachers with higher qualifications ahead of Friday's meeting with TSC
Sossion now wants the Commission to convene a meeting in seven days, effective yesterday, to address the unresolved issues. "In the circumstances, we hereby demand that within the next seven (7) days, a meeting be convened to which steps and actions will be taken without any reference to you," Sossion, further, says. The letter is copied to the Education Cabinet Secretary, Amb. Amina Mohammed, Hon. Ukur Yatani, the Cabinet Secretary for the Ministry of East African Community, Labour and Social Protection, Hon. Julius Kibiwott Melly, the Chairperson of the Departmental Committee on Education, Research and Technology, among others. This timeline will expire on 25/10/2018 and by then most schools should have closed for forms 1,2 and 3.
NEW/ POPULAR TSC DOWNLOADS: DOCUMENTS & FORMS
You may also like: