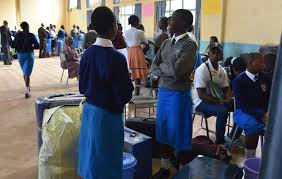 The Education Ministry has asked its field officers to provide data of students yet to be captured on the National Education Management Information System, NEMIS. This is in a bid to have 100 percent transition from primary to secondary. Here is the circular requiring Regional Coordinators of Education and County Directors to provide the data via the prescribed format.
RE: STATUS ON 100 PERCENT TRANSITION

The National Launch of the last mile Form One Admission campaign towards 100% transition was presided over by the Cabinet Secretary on Tuesday 5th February, 2019.
The information on NEMIS indicates that as a country, we have not attained the 100% transition from Primary to Secondary.
In this regard, you are required to provide data on the county form one status report as follows-

2018 KCPE learners who have not reported to school due to lack of fees
2018 KCPE learners who have died.
2018 KCPE learner who have joined TVET Institutions
2018 KCPE learners who have repeated
2018 KCPE learner who have not reported to school due to other reason
List of secondary schools which require interventions and type
of intervention to cater for the over enrollment.

You are also required to inform the schools to put structures in place to continue with Form One Admission during half term. Schools are advised to ensure the staff to carry out admission are available. Kindly liaise with the County Commissioner to ensure that the admission process goes on uninterrupted during the period.
This information should be submitted to the Director Secondary by Saturday 16th February, 2019.
Attached, find the reporting template.
PAUL KIBET, OGW
For: PRINCIPAL SECRETARY
RELATED CONTENT: