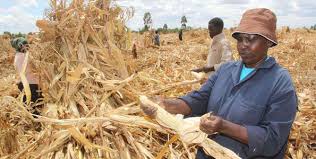 The Ethics and Anti- corruption (EACC) has today, 10th December 2018, arrested seven suspects for alleged fraudulent acquisition of public funds at the National Cereals and Produce Board (NCPB). The EACC has been investigating allegations of fraudulent acquisition of public funds at the NCPB.
Those arrested are: 
Willy Kipkoech Kosgei- A Silo manager at Kisumu NCPB
Renson Kibet Korir- A Silo manager at Eldoret
Thomas Kipkurgat Sang- Extension officer, Soi Ward
David Bergetuny Korir- Assistant chief, Sionim Sub- Location
Rodney Kimutai- Trader
Jeremiah Omutsani Omwayi- Deputy Silo Manager, Kisumu
Laban Momanyi Michira- Cashier at Kisumu NCPB Silo.
"The Commission concluded investigations and forwarded the file to the Director of Public Prosecutions who upon review concurred with the recommendations of the commission and gave consent for arrest and prosecution of the suspects in court," Says the EACC boss, Halakhe Waqo, via press statement dated 10th December, 2018.
Those arrested will be arraigned, in court, tomorrow to faces charges for such offences as: Conspiracy to commit an offence of corruption, Unlawful acquisition of public property, abuse of office and willful failure to comply with the law relating to management of public funds.
Today's arrests come even as a section of leaders from Western and Rift valley claimed that a certain community was being targeted on the latest corruption crackdown.
The EACC investigators are still pursuing four more suspects who are at large and have been directed to report to the latest EACC office; immediately. The four are:
Willy Kipkoech Sang- Agricultural officer, in Kisumu,
Victoria Jabet Rotich- A trader,
Caroline Chepchumba- A trader and
Stephen Kiprop Maiyo- A trader.
Opinion poll: Do you support the current crackdown on corrupt government officers?