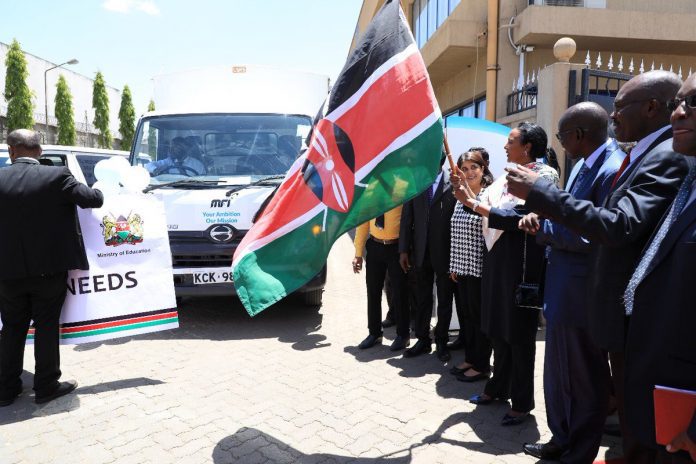 A section of Kenyans has strongly criticized Education Cabinet Secretary's (Dr Amina Mohammed) move to crack down on Higher Education Loans Board, HELB, loans defaulters. Reacting after Dr Amina's remarks, critics said it was unfair for the CS to force the beneficiaries to pay the loans and yet they have not secured formal employment.
On Wednesday, 20th February 2019, Dr Amina said the government will step up efforts to recover over Kshs 7.2 Billion in loans by past beneficiaries. She said the radical exercise will kick off soon and those in the diaspora will not be spared either. "We are going to partner with our law enforcement agencies to track down those holding jobs and yet are reluctant to stand up to be counted as responsible and patriotic citizens who honour their debts," she said.
On his part, HELB chief executive Charles Ringera said the agency will partner with the Ministry of Foreign Affairs to bring defaulters working in the diaspora to book. "We are having a large number of of graduates leaving the country to work abroad, majority who have defaulted," said Ringera.
Read also: List of deregistered teachers- 2019
The two were speaking at the Laico Regency hotel, in Nairobi today during the Launch of the HELB Agenda for 2019-2023 in which the agency has projected a budget of Kshs 90.7 billion.
"I am happy HELB Agenda 2019-2023 has aligned not only to the Big 4 Agenda but also to Vision 2030, the AU (African Union) Agenda 2063 and to a large extent the sustainable Development Goals. I appreciate the Higher Education Loans Board (HELB) on the milestones that they have achieved so far in increasing access to higher education through provision of finance. This is evident in the new vision of universal financing for Kenyans pursuing higher education," noted Dr Amina.
The CS reported that HELB will finance 76,209 first time applicants admitted to Technical Vocational Education and Training Institutions (TVETs). "On TVET, am happy to note that HELB is currently funding approximately 24,252 (students) with another 76,209 first time applicants waiting for resource availability. I am in constant discussion with Treasury to see to it that these resources are availed to the HELB to fund TVET students," she promised.
Amina encouraged other colleges that are not under HELB's funding program to engage HELB in order to build revolving funds for their respective colleges. She said the Afya Elimu fund for students at Kenya Medical Training College, KMTC, has so far funded over 21,000 health care workers at a cost of Kshs. 1.7 billion.
Read also: TSC dismisses 29 teachers- 2019
HERE IS DR AMINA's FULL SPEECH FOR YOUR REFERENCE:
"I am delighted to launch the HELB Agenda (2019-2023) at a time of heightened focus on reforming the higher education sector to ensure alignmentwith global, continental, regional and national education goals. At the signing of the sector's 15th Performance Contract Cycle on 4th
December, 2018, Idirected Semi-
Autonomous Government Agencies (SAGAs) to realign their Strategic Plans to support the realisation of the Government's priorities.

The HELB Strategic Plan – HELB Agenda (2019 – 2023) has accordingly aligned HELB's priorities with the Big 4 Agenda, Vision 2030, the Continental Agenda for the Africa We Want and the Sustainable Development Goals (SDGs).

Ladies and Gentlemen,
Due to the rapid expansion of higher education in the country, enrollment is now in excess of 795,000 students providing the country with amazing opportunities.
However, there are significant challenges that still confront the sector, which we are continuously addressing.
The Ministry of Education is currently reviewing the higher education financing policy to make financing more predictable and sustainable. Specifically, at the University level our immediate priorities include:
1.Improving Quality and Relevance of University Education
2.Conceptualing a funding model that ensures equity and fairness, financial prudence, and includes: resource mobilisation to complement exchequer support; and
3 Optimising good governance management and institutional structures to attract and retain adequate and highly qualified human capital especially PhD holders in all disciplines.

On the Technical and Vocational Education and Training (TVET), HELB is currently funding 24,252 students in various TVET colleges. The Ministry of Education is engaging Treasury to secure more resources to expand this reach. It is estimated that this year, 262,764 students will be placed into Technical Training Institutes while 90,688 will be placed in Universities. In order to allow more candidates to access tertiary education, the placement process to TVET institutions will remain open at various intervals throughout the year.
Ladies and Gentlemen,
Support for tertiary education is crucial to enable the realisation of the Government's Big 4 Agenda. There is an urgent need to equip more youth with the skills to meet the needs and demands of industry. The curriculum in our TVETs must be demand-driven and dynamic. It must be flexible and match the dictates of industry. To that end, we are in constant conversation and engagement with key industry players to develop and update our competency-based curriculum.

As the government remains committed to provide financial support through HELB to enrolled students, we are also calling on our development partners to support this
process. We are available to continue the discussions we started with our EU partners and with other international institutions on support to TVETs.

In the same vein, I also call upon parents, guardians and all Kenyans to encourage our youth to enroll in TVET institutions across the country and to seek financial support from HELB to finance their education. This financial year, Treasury allocated Kshs. 300 million to cater for loans and bursaries for students in the Technical Vocational Education and Training (TVET) institutions.
Overall, the HELB annual student budget has grown from Kshs 4.6 Billion financing 109,189 students in 2012 to Kshs 11.4 Billion financing 248,050 students in 2017-2018.
A total of 53% of this budget is funded by the exchequer and 47% from loan recoverv. In order to guarantee sustainability of HELB, I call upon employers to enhance loan recovery mechanisms to track over 74,000 defaulters holding over Kshs 7.2 Billion as at 31st December, 2018. This
intervention will improve HELB's performing loan portfolio from the current 72% to more than 80% by 2023, We are also going to partner with our law enforcement agencies to
track down those holding jobs and yet are reluctant to stand up to be counted as responsible and patriotic citizens who honour their debts. This will include tracking graduates working in enterprises such as Mobile Transfer services such as MPESA, Airtel Money and other emerging jobs.
Ladies and Gentlemen,
Currently, HELB is managing a Training Revolving Fund (TRF) on behalf of the Department of Public Service Management under the Ministry of Public Service, Youth
and Gender Affairs. This fund was created to finance civil servants pursuing higher education in government priority areas. The uptake of this fund however is very low therefore urge civil servants to take advantage of this kitty to advance their skills for better service delivery
Ladies and Gentlemen,
In conclusion, this strategic plan envisages a reformed, bolder, agile, customer focused, technologically enabled and risk intelligent organization managing a total portfolio of Kshs.90.7 Billion. I directed HELB to adopt artificial intelligence to serve customers better. The agency should equally use block chain technologies to aid in loan recovery and resource mobilization to align the operations of HELB to those of leading financing institutions globally. And yes I am truly looking forward to a time when HELB will not need any support from the exchequer.

HELB was and remains an amazing promise to our young people to empower, to encourage, to support the realization of dreams and achievement of their potential. In terms of financing higher education, we are in a class of our own in our continent. We are a great model and we are sharing our experiences and dreams.
In our vision however, we need to benchmark with countries outside our continent to improve.

With these remarks, it is now my pleasure to launch the HELB Agenda 2019-2023 and ISO 9001:2015 certification for efficient customer service delivery.
Thank you.
Amb. (Dr) Amina C. Mohammed, EGH, CAV, Cabinet Secretary for Education.
READ ALSO: