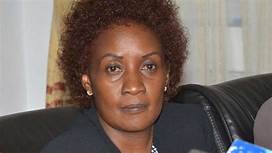 The Teachers Service Commission, TSC, has gazetted 29 teachers struck off the Commission's register. Via a gazette notice dated February 2019, the Commission says the teachers were de-registered between May and November, 2018. The Commission did not , however, give the reasons for the dismissals only stating that the tutors have been ex-communicated because of indiscipline related issues while on duty. "In exercise of the powers conferred section 30(1) of the Teachers Service Commission Act Chapter 212 of the Laws of Kenya, the Commission wishes to notify the public that the persons whose names are specified in the schedule herein below have been removed from the Register of the Teachers," reads the notice.
The Commission lists the teachers; giving their Names, TSC numbers and the dates they were de-registered. The 28 men and one lady are:
James Mburu
Patrick Sifuna
Alice Chepng'eno
David Njau
Charles Masieyi
James Okoth
Redfrern Gekonge
David Okeyo
Daniel Korir
Joash Maisiba
Cornelius Murkomen
Ernest Ndege
Kipchirchir Sang
Jack Makokha
Julius Makokha
Willy Kiptum
Patrick Onyango
David Bunei
Peter Odhiambo
Zachary Moturi
Patrick Kimani
Benjamin Okinyo
Thomas Mulandi
Nemwel Ondich
Onesphorous Kiwia
Edwin Kiptoo
Humphrey Mugera
Stephen Kamindo
Samuel Lugwiri
According to the TSC act, a teacher can be de-registered for either the following reasons: When he/ she;
Dies
Obtains registration fraudulently
Has been convicted of a sexual offence or an offence against a learner
Has been convicted of a criminal offence which renders the person unfit to be a teacher
Is found unfit to teach following disciplinary proceedings
Suffers from physical or mental illness or infirmity which renders the person incapable of performing the duties of a teacher.
Whenever a teacher is deregistered his/her name will be published in the Kenya Gazette and will not be allowed to offer teaching services until reinstated. The code of conduct for teachers can be downloaded from the official TSC website at: TSCdownloads/Codeofconduct
READ ALSO: