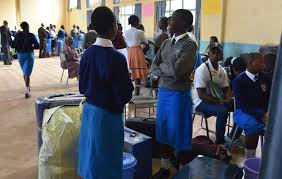 A busy schedule is lined up as schools reopen for third term on September 2, 2019. This term was shortened following the Education Ministry's move to delay opening of schools by one week so as to allow smooth execution of the 2019 population and Housing Census exercise. The term will now run for eight weeks only with schools expected to close by October 25, 2019 for the long November/ December holidays. As has been the norm, there shall be no half-term break this term
National Examinations
This year's Kenya Certificate of Secondary Education, KCSE, Exams are expected to kickoff proper on Monday November 4, 2019 and end on Wednesday November 27, 2019.
Click here to download the updated 2019 KCSE Time Table: 2019 KCSE Time Table- updated version
On the other hand, the Kenya Certificate of Primary Education (KCPE) exams will commence on Tuesday 29th October, 2019 and end on Thursday 31st October, 2019.
Click on this link to access the 2019 KCPE Time Table: The 2019 KCPE Time Table
TSC Recruitment
The Teachers Service Commission, TSC, is in the process of recruiting an additional 5,000 teachers so as to try and bridge the huge staff shortfalls occasioned by influx of large number of learners to Secondary schools; following the Government's 100 percent transition policy. The County Selection process will run from Monday 2nd September, 2019 to Friday 13th September, 2019. Successful recruits are expected to report to their stations by Monday 28th October, 2019. Read full details here: 2019 August/ September TSC recruitment schedule and interview dates for teachers
TSC promotions
TSC has advertised promotion vacancies for teachers to be filled in September, 2019. Check details on the links below:
1). TSC advertises 164 vacancies for curriculum support officers in line with provisions of career progression guidelines for teachers
2). TSC advertises 76 vacancies for assistant deputy directors teacher management and assistant deputy directors quality assurance standards
3). TSC advertises 827 posts for chief principals, principals and deputy principals; how to apply, requirements, marking scheme and full details
4). TSC advertises 6043 promotion vacancies, administrative; requirements and how to apply
5). TSC to promote 1000 practising teachers in public primary schools and post them to secondary schools
2020 Registration of Candidates
In a break from the norm, the 2020 KCPE and KCSE candidates will be registered in 2019. Effectively, current class seven learners will all be enlisted for the 2020 KCPE examinations while, all current form threes will be entered for the 2020 KCSE exams. The Kenya National Examinations Council, KNEC, has thus directed that the registration be carried out between 2nd and 30th September, 2019. Get more details here: KNEC- Guidelines for registration of candidates for the 2020 KCPE, KCSE exams
TPAD data capture
TSC holds that teachers must continue uploading their performance appraisal data as per the Career Progression Guidelines. The Commission will use data captured on the TPAD system when considering teachers for promotions. Teachers who are yet to upload their data for term 2 have until the 17th September, 2019 to do so. This is the deadline for both the Appraisee and Appraiser. For guide on how to use TPAD, click here: Simplified TPAD user guide
Ban on all non-academic activities in third term
The Ministry of Education still maintains that no non-academic activities should be staged in schools this term. Consequently, there shall be no parents' meetings, prayer meetings and visitations by parents/ guardians in schools.
Also read;