In Summary:
Education Cabinet Secretary, Dr. Amina Mohammed, praises administration of this year's KCSE exams saying it is the most credible in Kenya's history.

Services of 10 principals terminated for carrying exams in private cars.

Examination malpractices reported at two centres of the 222 put under high surveilance.

10 BOM teachers arrested for exam related malpractices

101 mobile phones confiscated for being used to promote cheating

4 candidates deregistered for impersonation.
The Month long 2018 Kenya Certificate of Secondary Education, KCSE, Examinations came to a close today as candidates wrote their final Technical subjects' papers. The Education Ministry's Cabinet Secretary (CS),  Dr. Amina Mohammed, has hailed the administration of this year's examination saying it is the most credible in Kenya's history.
"The Country (has) witnessed the most credible KCSE (exams) in the examination's 29 year history," said Dr. Amina in a summative presser on the administration of this year's KCSE exams. The CS says that she has received numerous requests from other countries for them to come to Kenya to benchmark on the administration process of National Examinations.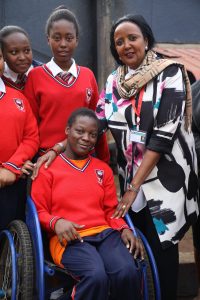 "In fact, already ( have received) several requests for bench marking because very much like us, they wish to guarantee the credibility of their matriculation process," Dr. Amina said.
The Cabinet Secretary has alluded that the success in administration of this year's National examinations is due to collaboration between the various government agencies. "I wish to acknowledge and most sincerely thank this top notch team of professionals including: Basic Education PS (Dr. Belio Kipsang), Prof. George Magoha (KNEC Chairman), Dr. Nancy Macharia (TSC Chief Executive Officer) and Dr. Mercy Karogo (KNEC Acting Chief Executive Officer) for executing one of the most robust examination monitoring exercises ever undertaken not only in our country but on our continent if not the world," the Education CS added.
The Cabinet Secretary, also, had kind words to candidates who prepared well and brought determination, enthusiasm and foresight to the examination halls. "Am proud to be associated with these great young men and women who have proved ready to take on and surmount the challenges of the future and make their contribution to our national journey," Dr. Amina uttered.
Faced with some Mishaps
The smooth  administration of the 2018 KCSE examinations was marred with a few setbacks, though. Despite being hailed as the most credible, some cases of examination malpractices were reported.
Cheating cases reported.
Out of the 220 schools put under high surveillance, two centres attempted examination cheating and the suspects were arrested and presented to court. "In the 222 schools that were put under high surveillance based on previous history of examination malpractices, examinations went on unhindered in 220 of these centres. Minimal malpractices were detected in two of the centres, with the alert monitors taking remedial action that prevented any full blown collusion or examination contamination at the centres," the CS reported.
Services of 10 principals ex continued
Elsewhere, ten principals, centre managers, were ex-continued for carrying examination materials in private vehicles. "Officials in charge of 10 (ten) centres were relieved of their various duties as centre managers for allowing the transportation of examination materials in private vehicles contrary to the requirement that only government transportation be used for the purpose," the CS says in the presser. In other schools, some principals were replaced as examination centres for allowing unauthorized persons into the school compound during the examination period. The ministry had earlier banned execution of any major activities and visitations to schools by parents or guardians in term three.
Over 120 arrested for attempted cheating
The summative report by the Cabinet secretary indicates that 'a total of 110 people, including candidates, who attempted cheating during the examinations were arrested owing to the watchful eyes of security-men, monitors and other examination officials'. Also arrested were 10 Board of Management, BOM, teachers in four schools in connection to various cases of examination malpractices. These teachers have been arraigned in court and charged. Four students were at the same time deregistered for impersonation.
Despite the ministry banning the use of mobile phones within the examination centres, by unauthorized individuals, a total of 110 cell phones were confiscated at various centres as the exams were on. These electronic gadgets were confiscated from teachers, candidates and school staff. The phones are being analyzed to see if they aided in examination cheating via relaying information into the examination rooms.
The 664,550 candidates will be waiting with abated breadth as the examiners start marking their papers next week across various centres in Nairobi. The results for these examinations are expected before Christmas, this year (2018).
Related Content:
Mumias Court releases 5 Teachers arrested at Koyonzo Secondary School for alleged cheating in French Paper
KNEC Press statement on administration day one KCSE Exams; 2 candidates die, 15 arrested in Nyanza and Western for alleged cheating
2018 KCSE exams Cheating case reported at Nduru Boys in Kisii County as police arrest 19 people
KNEC invites Senior examiners for marking coordination ahead of the 2018 KCSE exams marking exerciise
KCSE candidate caught in Nairobi with mobile phone having English and Chemistry answers in the exam room
Ahead of the KCSE Exams, 2018, Tomorrow; we break down the all important numbers for you with over 40 teachers disciplined.