Here are the big stories that have been trending today:
MOSES KURIA'S RESIGNATION CLAIMS:
Gatundu South Legislator, Moses Kuria; pictured below, has refuted claims that he has written to speaker, Hon Justine Muturi, asking for his resignation. Earlier, it was reported that the fiery Legislator had resigned. Kuria now claims his life is in danger and has reported to the Directorate of Criminal Investigations, DCI. Hon Kuria has been trending since he launched a scathing attack against president Uhuru Kenyatta; whom he blames for the 'underdevelopment' in the Central region.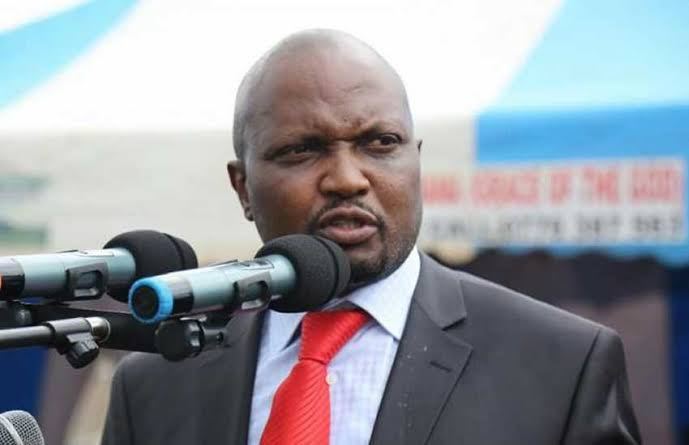 Here is the full press statement from Hon Kuria: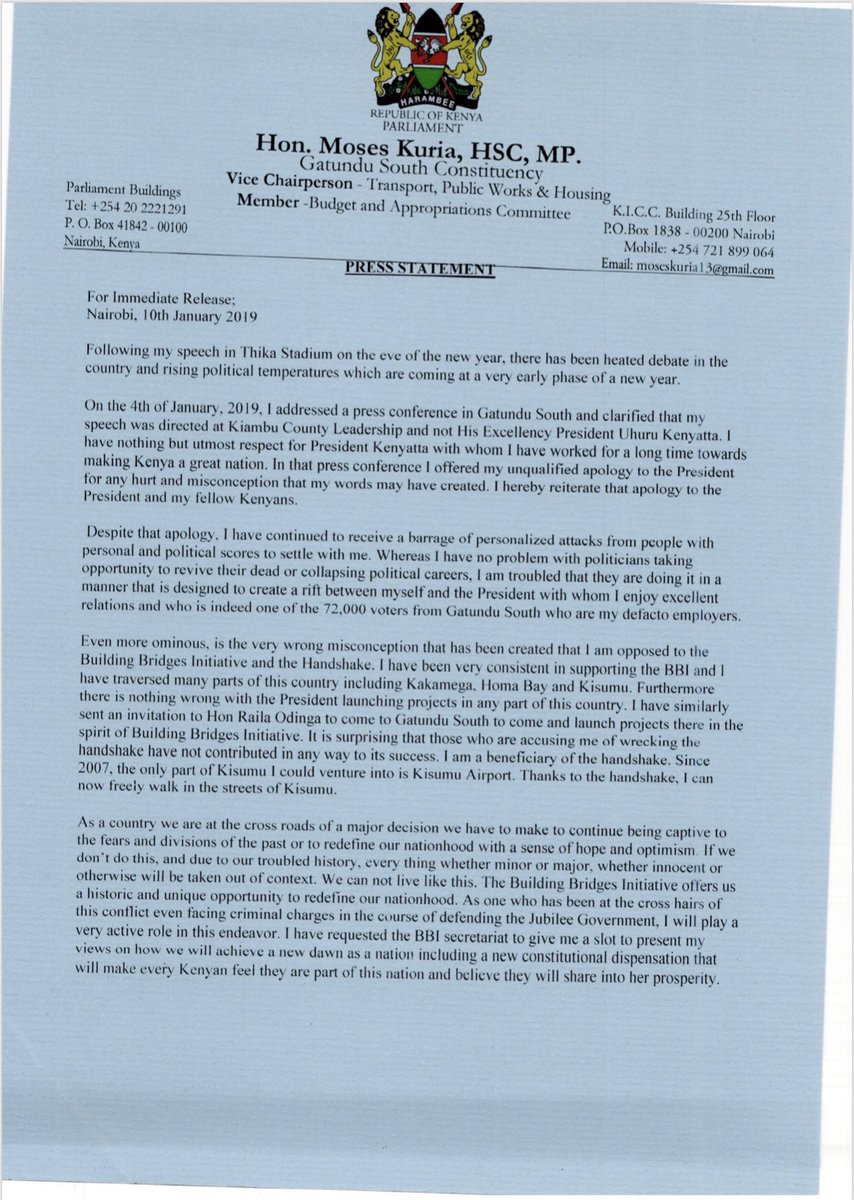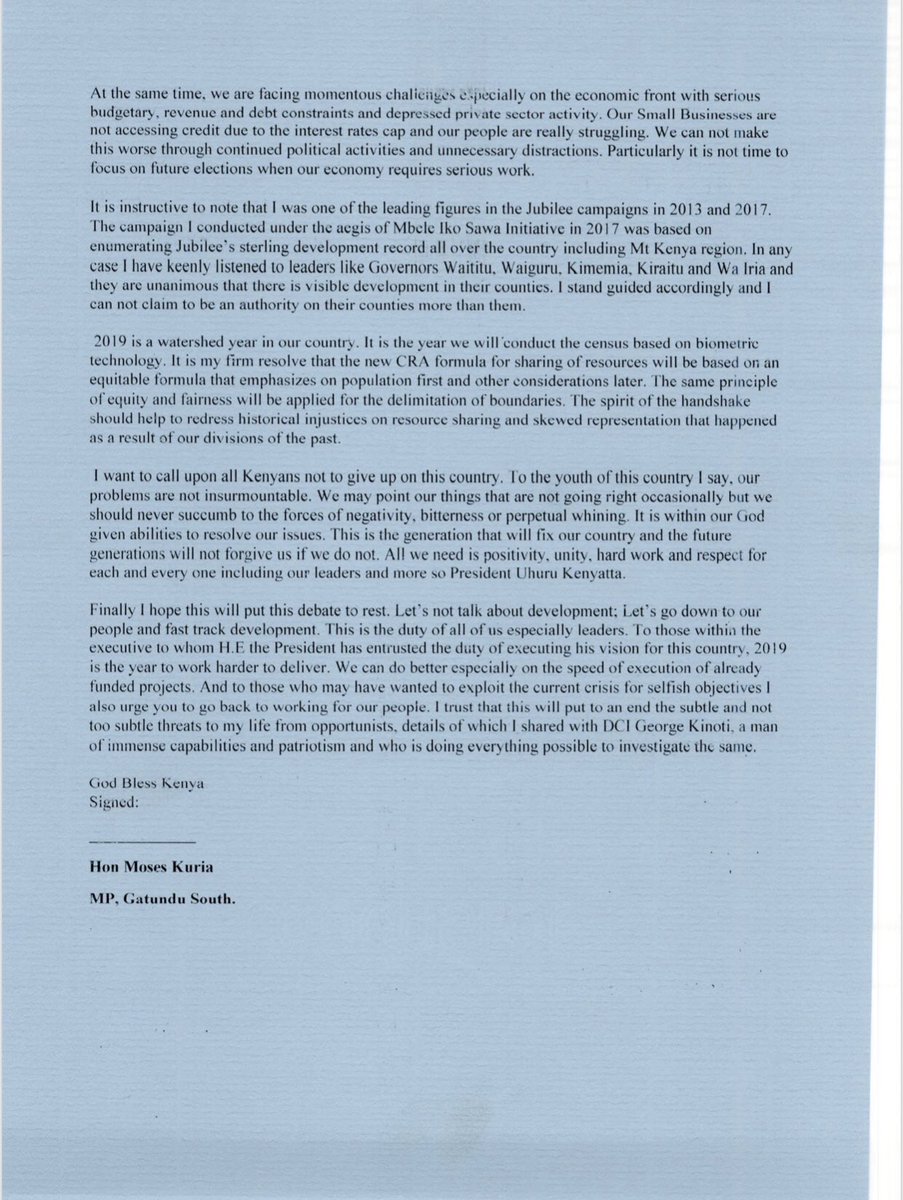 2. WOMEN LEADERS FROM DIVERGENT POLITICAL ANGLES CONGREGATE, SUPPORT THE UHURU-RAILA HANDSHAKE.
Kenyan women (Pictured below) from different political persuasions came together as the EMBRACE Movement. In line with the handshake between President, uhuru Kenyatta, and former Premier, Raila Odinga, the women say they embarace everything that they believe is good for Kenya. Notable attendees were: Kirinyaga County Governor (Hon Anne Waiguru) and Homabay County Legislator ( Hon Gladys Wanga) among others.
"Earlier today at Serena Hotel women leaders from different political persuasion gathered in support of the Building Bridges Initiative led by HE Uhuru Kenyatta and HE Raila Amolo Odinga," Says Hon Gladys Wanga, the Homabay County Member of Parliament.
"We have since left RESIST OR BRIGADE and joined a new movement called EMBRACE! We EMBRACE the Handshake as an act of extreme courage by two leaders who mean well for the country and who sacrificed individual feelings and pride and pulled Kenya from the brink of collapse. We reject, totally, the politics of blackmail, intimidation, threats and bloodshed. We have been there before. We are not going there again," added Hon Wanga.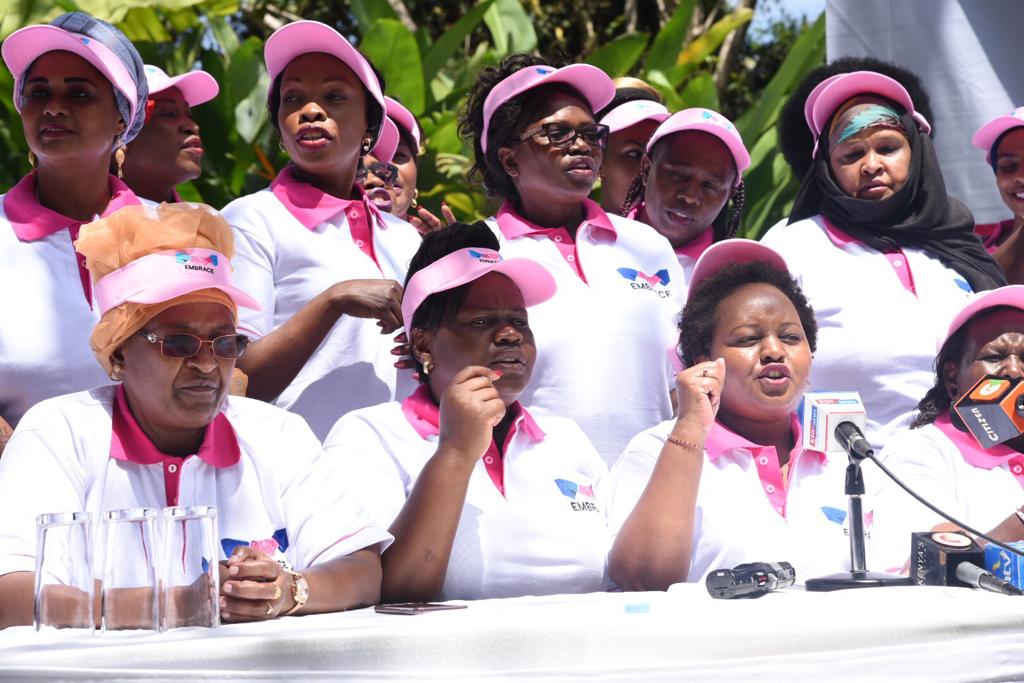 3. TWENTY OUT OF TWENTY SIX ACRES OF MAMA NGINA DRIVE GRABBED- NLC CHAIRMAN, DR SWAZURI, SAYS
National Lands Commission, NLC, chair (Dr. Muhammad swazuri) has sensationally revealed that 20 acres out 26 of Mama Ngina Drive in Mombasa have been grabbed. Dr Swazuri made the claims when he toured the park today. According to Swazuri, 13 people who claim ownership of the land presented title deeds for the 20 acres of the land. Swazuri said he does not understand how the grabbers obtained the Land Titles. The NLC boss ordered that two perimeter walls be erected; round the 26 acres of the land.
4. AFC LEOPARDS SUSPENDS TOP OFFICIALS AFTER THE FRACAS THAT MARRED THEIR TIE AGAINST NZOIA LAST WEEKEND.
Kenya Premier League side, AFC Leopards, has today suspended its Organizing Secretary (Timothy Lilumbi) and a Member (IAN Mukhobi) following an alleged attack on referees who were manning their match against Nzoia FC on Sunday. The match that was played at Kenyatta stadium on Sunday, January 6th 2019, ended at 1-1 draw.
Below is the Presser by the club:
"Following the unfortunate incident after our match last week in Machakos and the charges that have since been instituted against us, the Management of AFC Leopards SC has forthwith suspended the Organizing Secretary, Mr.Timothy Lilumbi, for his alleged involvement in the fracas and a Member one Mr. Ian Mukhobi has also been suspended pending conclusion of investigations and ruling by IDCC. In this period, both Mr Lilumbi and Mr. Mukhobi will not be allowed to transact anything or act on behalf of the club. AFC Leopards is firmly against hooliganism of any kind and we will fully cooperate with all the football stake holder in the fight to eliminate the vice from our sport.We have instituted our own investigations and we shall make known our findings upon conclusion."
The club has been summoned to appear before the Kenyan Premier League's Independent Disciplinary and Complaints Committee (IDCC) , tomorrow, to shed light on the matter.
5. PRESIDENT UHURU HAS URGED LOCAL ASSEMBLERS TO PRODUCE CHEAPER VEHICLES
President Uhuru Kenyatta met members of the Kenya Manufacturers Association, yesterday, to discuss the National Automotive Policy geared towards promoting the vehicle assembly sector. He urged local motor vehicle assemblers to innovate ways of producing quality vehicles that are affordable for Kenyans.
" I am keen to see the country's vehicle assembly industry back on track in support of the manufacturing pillar of our Big 4 Agenda. If well harnessed motor vehicle assembly has the potential to create thousands of jobs for our youth," said the President.
The meeting occurred yesterday (9th January, 2019) at State House, Mombasa.
6. KENYA'S PASSPORT RANKED HIGHLY IN AFRICA.
Kenya's passport has been ranked eighth in Africa and 72 in the world. The Kenyan Passport can be used to access 71 destinations without requirement of a VISA. Japan is the top country in the world with 190 countries access while Seychelles leads in Africa with 151 countries. The ranking has been done by Henley and Partners, a Citizenship and planning firm.
7. SOYA AWARDS GALA TO BE HELD IN MOMBASA, TOMORROW.
The Sports Personality of the Year Awards, SOYA, gala will be held tomorrow (Friday 11th January 2019) at Fort Jesus in Mombasa. The Gala will see sportsmen and Women who excelled in various disciplines, in 2018, get rewards from Safaricom and other sponsors.
Read Also: