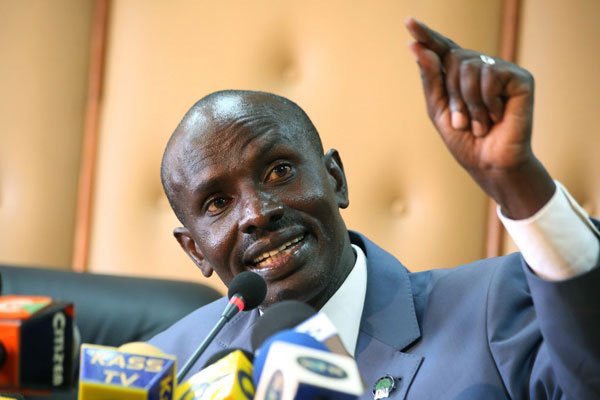 The Kenya National Union of Teachers, knut, has sharply differed with the Teachers Service Commission (TSC) the latter's attempt to punish teachers affiliated to knut. This follows the move by the Commission to prepare two parallel payrolls; one for KNUT members and another for the Kenya Union of Post Primary Education Teachers (kuppet) members. In the July 2019 payroll, TSC did not effect salary increments for knut members saying the recent Labour Relations court's ruling suspended implementation of the recent Collective Bargaining Agreement (CBA) for knut members.
Here is the response from knut Secretary General, Hon Wilson Session, dated August 5, 2019;
'THE APPLICATION OF/TWO PAYROLLS IN PUBLIC TEACHING SERVICE ILLEGAL
It is shock and total disbelief that Teachers Service Commission (TSC) has arbitrary introduced two payrolls in the Public Teaching Service contrary to internationally established norms in the Human Resource Management.
The Commission argues that the ruling of the Employment and Labour Relations Court on July 12, 2019 necessitated preparation of two parallel payrolls in order to comply with the Court ruling without disadvantaging teachers who are not KNUT members.
This are total lies. There can't be two parallel payrolls in standard Human Resource Management. This is supported by Justice Byram Ongaya's ruling, and I quote: "Thus Section 3(1) of the Employment Act (2007) provides that the Act shall apply to all employees employed by any employer under a contract of service and Section 3(2) therefore provides that the Act binds the Government."
The Commission states that it discontinued the Schemes of Service for
Teachers and adopted Career Progression Guidelines (CPGs) in 2017 to enable implementation of the Job Evaluation and the 2017-2021 CBA.
The Union would wish to point out that there is no way the Commission
could substitute the Schemes of Service for CPGs as the Schemes are anchored in the Code of Regulations for Teachers whereby Section 4 of the CBA states that the Code shall form an integral part of the CBA, therefore no party can purport to change any provision in the CBA without due consultation with other parties.
Section 3.2 of the CBA states that the Agreement shall remain in force for a period of four years with effect from 1 July, 2017 to 30 June, 2021.
Furtherance to this, Section 3.3 states that the CBA shall remain in force and bind all parties until a new Agreement is negotiated.
Section 21.1 of the CBA states that in the event that any provisions of the
Agreement are to be modified after the Agreement has been signed, the modification shall be by mutual consent of parties, made in writing and signed
by the authorized representatives of the parties.
Notwithstanding Sub-section 21.1, any variation and/or amendment of the
Agreement affecting remuneration and benefits to teachers shall be subjected to the Salaries and Remuneration Commission's advice.
Therefore, it is illegal and totally out of tune for TSC to claim that the Commission discontinued Schemes of Service and adapted CPGs. Whom did they consult as per the provisions of the CBA? It is important to note that the CBA was anchored on the Constitution (2010), TSC Act (2012) and the Labour
Relations Act (2007).  All these statutes are still intact and legally applicable.
Besides, the CBA was deposited in the Employment and Labour Relations Court.
This in essence means that neither TSC nor Unions can purport to change the existing provisions in the CBA before consulting other parties.
It is also important to note that the Instruments of CPGs were developed in 2017 long after the CBA was signed, therefore the tools were never agreed upon as per Public Participation Act (2013), and worse still, the CPGs were not development in concurrence with Statutory Instruments Act (2013).
Any Labour Policy in the Public Service which is not in consistence with the Statutory Instruments Act, is illegal.
It is misinformation and quite misleading that all the serving 300,000 teachers in the Public Service were promoted with effect from July 19, 2017 when the implementation of the CBA commenced. There are no records with teachers to prove the promotions to that effect.
Banding teachers and switching them left-right-and-centre in Job Groups doesn't amount to promotion.
One would be tempted to ask, what tools did they use to promote teachers
and yet the CPGs were yet to be developed?
TSC claims that under CPGs the salary grades have been expanded such that a teacher will enjoy more annual incremental credit within a grade. This is a lie.
It is also a lie that 96,000 teachers formerly designated as P1 and who were promoted to B5 with effect from July 14, 2017 will not be promoted under Common Cadre to C1 on July 1″, 2020. This is because promotion of teachers who are members of KNUT shall strictly be as per the provisions of the Schemes of Service.
It is worth noting that the Schemes of Service which have been used since time in memorial guarantee upgrading of this cadre of teachers.
If the Schemes of Service are fully implemented as directed by the court without discrimination, over 103,600 teachers who include Head teachers, Deputy Head teachers and Senior teachers will greatly benefit because of their
seniority, experience, acquisition of high academic and professional papers,
merit and ability. All these are set out in the Schemes of Service.
Tampering with teachers' pay-recovering money paid to KNUT members in
the First and Second phases of the CBA amounts to a scam; it is illegal in nature and unconstitutional.
According to International Labour Organization (ILO) statues and Employment Act, no one can arbitrary reduce an employee's wage without their consent. Once a worker has been awarded a pay rise through a CBA that has been registered and deposited in Employment and Labour Relations Court, such an increment cannot be taken away.
Withholding Union dues is a well-choreographed strategy by TSC to frustrate KNUT as it would not be able to meet its financial obligations; these include
and not limited to paying salaries of staff, rent of branch offices, mortgage,
SACCO and bank loans, day-to-day running of national and branch offices.
Besides, KNUT runs a myriad educational programmes and labour projects at both national and branch levels which require massive funding.
We urge the Teachers Service Commission to obey the Court Orders to
implement the Collective Bargaining Agreement (CBA) 2017-2021 to the
letter.
We also DEMAND that the increment so not effected to our members be given with immediate effect and Union dues to KNUT be released forthwith.'
Also read;
Shocker for KNUT members as TSC slashes July, 2019, salaries