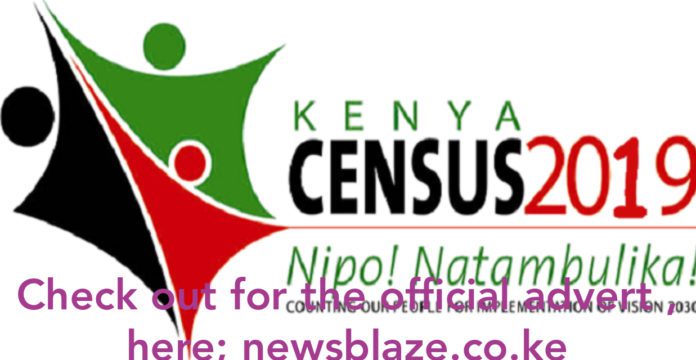 The Kenya National Bureau of Statistics, KNBS, has today given an update on the progress of the 2019 Kenya Population and Housing Census exercise. The briefing was held at the Kenyatta International Convention Centre, KICC. In attendance were KNBS Director General Mr. Zachary Mwangi, Mr. Mutua Kakinyi, (Senior Manager – Data Processing, KNBS), Mr MacDonald Obudho (Director Population and Social Statistics, KNBS) and Mr. Robert Nderitu (Publicity Committee Chair, KNBS).
The Bureau detailed the milestones achieved in readiness for the upcoming Census exercise. Mr. Zachary Mwangi said the training for 29,700 supervisors, 135,000 enumerators hired to conduct 2019 census to start on July 15 and will be done for one week. Here is the media brief by KNBS Director General Mr. Zachary Mwangi :

"Kenya has conducted seven censuses in the past. The first national census was conducted in 1948, followed by 1962, 1969, 1979, 1989, 1999 and 2009. The 2019 Census will be conducted in accordance with the Constitution 2010 (Fourth Schedule part 1 item 11) , Statistics Act No. 4 of 2006 Laws of Kenya and the legal notice no 205 of November 2018 – The statistics (census of population) order, 2018.
The 2019 Census will be carried out in three phases namely: Pre-Enumeration, Enumeration and Post-Enumeration. The 2019 Census will be the first to make use of technology. It will be a paperless process, and will use mobile technology for Cartographic Mapping as well as Enumeration. The advantages of using technology for the2019 Census include: Elimination of manual data entry, Real time data sent to the server from the time enumeration starts, and Shortening the time taken to release Census results.
KNBS successfully conducted a pilot Census in August 2018 to test various aspects including: Logistics, Accuracy of the maps, Questionnaires, Adequacy of Personnel, Technology. The total number of personnel required is as follows: 2,700 ICT Supervisors, 27,000 Content Supervisors and 135,000 Enumerators. The recruitment process is being handled by County Census Committees (CCCs) and will be completed by 14th July, 2019.
The training of Traners, ICT Supervisors and Enumerators is scheduled to begin on 15th July 2019 and will be completed by 21st August 2019.
Production of the mobile devices to be used during the Census exercise is ongoing at JKUAT & Moi universities. This has led to job creation for Kenyans in assembling and programming the gadgets. The devices will be distributed to the counties as from 12th July 2019. The Enumeration is scheduled for August 2019. The reference night is 24th/25th August, 2019.
We did not collect information on agriculture in the last census but this time we do have a whole module on agriculture."
Related Content;