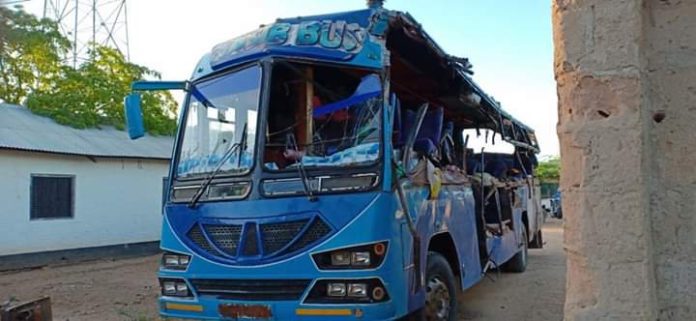 On Sunday 12th May 2019, at 1130hours at Tula area along Thika Mwingi Road Forty (40) kilometers from Garissa Town), a bus , registration number KCS417A belonging to Grand Bus Services and a semi-trailer, KCE007S/ZF1769 belonging to Five Star Agencies Limited and ASL Credit Limited were involved in a fatal crash that claimed the lives of 14 passengers.
The bus was headed for Garissa from Nairobi County. Preliminary crash analysis and investigations indicate that the semi-trailer carrying cement broke down on the road and the driver had not made any attempts to move off the road. To avoid ramming into the rear of the semi-trailer, the Bus driver swerved and hit the right side of the trailer causing extensive damage to the left hand side of the bus. As a result, 10 passengers lost their lives at the scene of the crash, while 4 others passed away on the way to the hospital.
Another 17 persons who had sustained injuries have been treated and discharged from the Garissa Referral Hospital.
The National Transport and Safety Authority, NTSA, has since carried out preliminary investigations. From the preliminary report, the Authority observes that the trailer driver had not placed any warning signs on the road to alert the oncoming motorists on the presence of the stalled vehicle.
The bus driver drove without due care considering that the road section is straight and flat. The driver should have seen the reflective chevrons and take appropriate action to avoid the crash.
NTSA has consequently taken action against the bus company's owners. "On its part, the Authority has suspended the Grand Bus Services Sacco Operator's Licence and the officials are required to submit a comprehensive incident report by 14h May, 2019," says the Agency.
The agency adds that the Driving Licences of the truck driver, Mr. Abdullahi Sugow Muhuned and the Bus Driver, Mr. Osman Ali Guhad have also been suspended as the investigation continues.