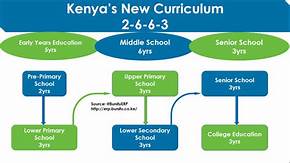 Publishers have raised concerns over the Ministry of Education's commitment in implementing the new curriculum. The publishers state that the roll out of the new curriculum is expected to face challenges as the Ministry of education is failing to provide proper guidelines. The Publishers say that there are no Grade four text books as the Ministry is dragging its feet to provide the much needed guidelines and finances.
Read more here…http://newsblaze.co.ke/ministry-of-education-releases-term-dates-for-2019/
The new2-6-3-3 education system in Kenya was to replace the current Standard One to Form Four with Grade 1 to Grade 12 this year, but its implementation was pushed ahead to 2019. It has been categorised into three phases: Early Years Education covering nursery education to Grade 3, Middle School Education covering Grade 4 to Grade 9 and Senior School covering grades 10 to 12. The system will only involve students below Standard Six. The system, which places emphasis on continuous assessment tests (CATs) over one-off examinations, will then be rolled out in January next year covering nursery, Standard One, Two and Three. n 2019, the system is expected to be rolled out in Standard Four to Six and in 2020 it will cover Standard Seven, Eight and Form One. In 2021, the system will be extended to Form Two only and in the following year it will cover Form Three. In 2023, it will be rolled out in Form Four.
Piloting of the new system was done this year, ahead of roll out next year, 2019. But, the publishers say there are no enough books in public schools for piloting of the new curriculum and teachers have been forced to use the old curriculum instructional materials, in some cases.
In a report released by the Kenya Institute of Curriculum Development (KICD), In May this year, parents who will be expected to play a key role in the implementation of the competency-based curriculum are not fully aware of their role. "Over half, 57 per cent, of the teachers indicated that they felt prepared for the implementation of the competence based curriculum," reads the report.
It states that only three per cent of the teachers said they were "very well prepared" while only 20 per cent said they were "well prepared".
"Thirteen per cent reported that they were "hardly prepared while seven per cent said they were "not prepared at all," the report notes.
The curriculum was to be rolled out in January this year, but was postponed to allow for more national piloting programmes after it emerged that teachers were not prepared then.
The report notes that teachers lack knowledge in assessment of students and preparation of scheme of work in line with the new format.
Through a survey Commissioned by the Teachers Service Commission (TSC), some tutors have poor mastery of the subjects they teach. The report released this year further shows that some teachers cannot keep their professional documents in order. The report by Macharia also says planning and time management among teachers; financial literacy and behavioural attributes are low. About 21 per cent of the sample said teachers have bad behavioural attributes, according to the report.
The Kenyan Publishers' Association now wonders whether the kids in grade 3 will go back to grade 1; as there are no instructional materials for grade 4, with term one of 2019 only three months away.
You may also like:
TSC CIRCULAR- SAMPLING FOR SCHOOL BASED TEACHER SUPPORT SYSTEM(SBTSS)