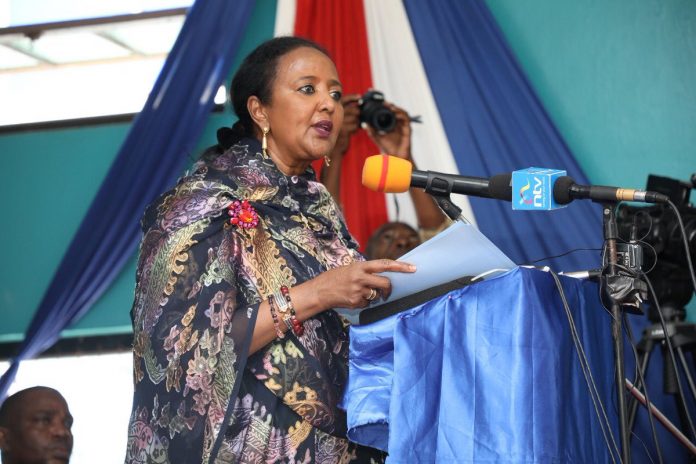 A total of 4 candidates have had their 2018 Kenya Certificate of Primary Education, KCPE, examination results cancelled. This was revealed by the Education Cabinet secretary, Dr. Amina Mohammed, while releasing the 2018 KCPE results at the Star of the Sea Primary School in Mombasa, today. The results were cancelled due to impersonation related examination irregularities. According to the CS, the candidates will be allowed to resit the KCPE examinations next year, 2019. Dr. Amina said the government has completely eradicated cheating. "We have completely wiped out cases of (exam) leakage. The exam did not leak. These results are pure reflection of the children's abilities," the CS said.
The CS, also, said her ministry had stamped out cheating arrangements where some private centres registered perceived 'brighter' candidates only. The 'poor' candidates were registered in other centres.
In the results released, two candidates garnered top spot with with a total of 453 marks out of a possible 500 marks. Read full details here: Top candidates garner 453 marks as KCPE 2018 exam results are released. The 2 candidates who clinched top spot are: Rawlings Odhiambo (from Kakamega Hills academy) and Olive mwea Wachira (from Riara primary school, in Nairobi); who both scored 453 marks. This was a drop by 2 marks from the marks scored by the top student last year, 2017.  Goldalyn Kakuya of St Anne Junior Lubao in Kakamega County was the top student in last year's (2017) Kenya Certificate of Primary Education (KCPE) examinations after she scored 455 out of 500 marks.
Photo- Top student in 2017 KCPE exams, Goldalyn Kakuya, celebrates her triumph.
Dr. Amina announced that a 23 counties had more females who sat for this year's examination compared to boys. The counties included: Kakamega, Nairobi, Meru, Bungoma, Vihiga, Siaya, Embu, Machakos, Elgeyo Marakwet, Nyamira, Siaya, Kirinyaga, mombasa, Nandi among others.
The CS said that 5 counties recorded the highest numbers of 2018 KCPE candidature with Nairobi topping the list. The counties were: Nairobi with 59,302 candidates, Nakuru (52,910), Kakamega (50,860), Bungoma (48,001) and kiambu with 42,000 registered candidates.
The number of Physically challenged candidates increased 2,495, the highest ever. The highest mark recorded by candidates with special needs was 446 in 2018. The CS alluded this to the interventions put up by the government to promote education of physically challenged learners; including provision of facilities.
In 2018, a total of 8,347 failed to show up for their KCPE examinations being a drop from the 9,726 recorded in 2017.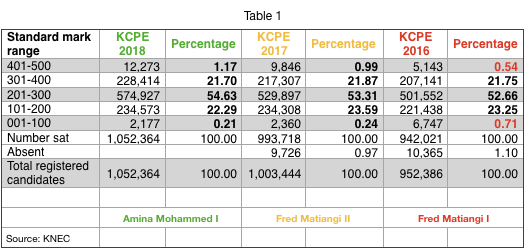 Table- KCPE exams performance analysis for 2016,2017 and 2018
Large number of contracted professionals.
while releasing the results, the education Secretary stated that a total of 183, 497 contracted personnel manned the 2018 KCPE examination administration exercise. Of this 27,354 were supervisors, 65,107 invigilators, 64,322 security personnel, 918 examination managers (manning the exam containers), 6,791 drivers and about 20,000 centre managers. Dr. Amina defended the high costs incurred in the administration of the tests saying the Ministry had done a cost benefit analysis and found out that the benefits outweigh the costs. "We will not relent. We will not change. We don't want to leave the exam papers to criminals," noted Dr. Amina.
Form One Selection Exercise.
The CS indicated that the 2019 form one selection exercise will kick off almost immediately and there shall only be one selection exercise. She said the exercise will be conducted on Monday 3rd December, 2018. The CS said her ministry will implement the president's directive on 100% transition from primary to secondary adding that no candidate will miss a vacancy in secondary school, next year.
Decried high rates of Teenage Pregnancies
The Education cabinet secretary decried the high levels of teenage pregnancies. She was quick, however, in defending her ministry saying her ministry did well by raising the alarm. She indicated that the vice can only be fought via concerted efforts by all stake holders. Amina reported that the Ministry "carrying out teenage pregnancies analysis for the last three years: 2016, 2017 and 2018.'
The CS, just like the Teachers Service Commission boss (Dr. Nancy Njeri Macharia), blamed parents for letting their children to go out and party. She said she was tired with receiving a multitude of videos showing teenagers in discos, partying, every day. Dr. Amina appealed to parents to take their responsibilities seriously. "Ensure you know where your children are (at all times). Two months is not too long to take care of your child," the CS lectured the parents. Amina maintained that holiday tuition remains banned. She also warned that there shall be no extra teaching hours (remedials) during school hours noting that releasing kids very late from school exposed them to a myriad of insecurities.
Dr. Amina asked individual candidates to send an SMS with their index numbers to 20076 to receive their results via SMS. School heads will be picking school's results (nominal rolls) from the sub counties. The result slips for individual candidates shall be available at the Kenya National Examinations Council Website (https://www.knec-portal.ac.ke/kcpe/registration/login.aspx) for head teachers to download for all candidates.
Speaking at the same event, Education Principal Secretary, Dr. Belio Kipsang, urged parents to accept the results for their children. He advised parents not to pile unnecessary pressure on the kids. Dr. Kipsang said the Education ministry will ensure Free Secondary Education Funds and Text books will be in schools by January, 2019, before kids report to school for the new term.
Earlier today President, H.E Uhuru Kenyatta, received the KCPE 2018 results from Education CS AMB_A_Mohammed (See Photo below). The President expressed his satisfaction with the results and reassured that all pupils who sat for the exam will get placement in form one.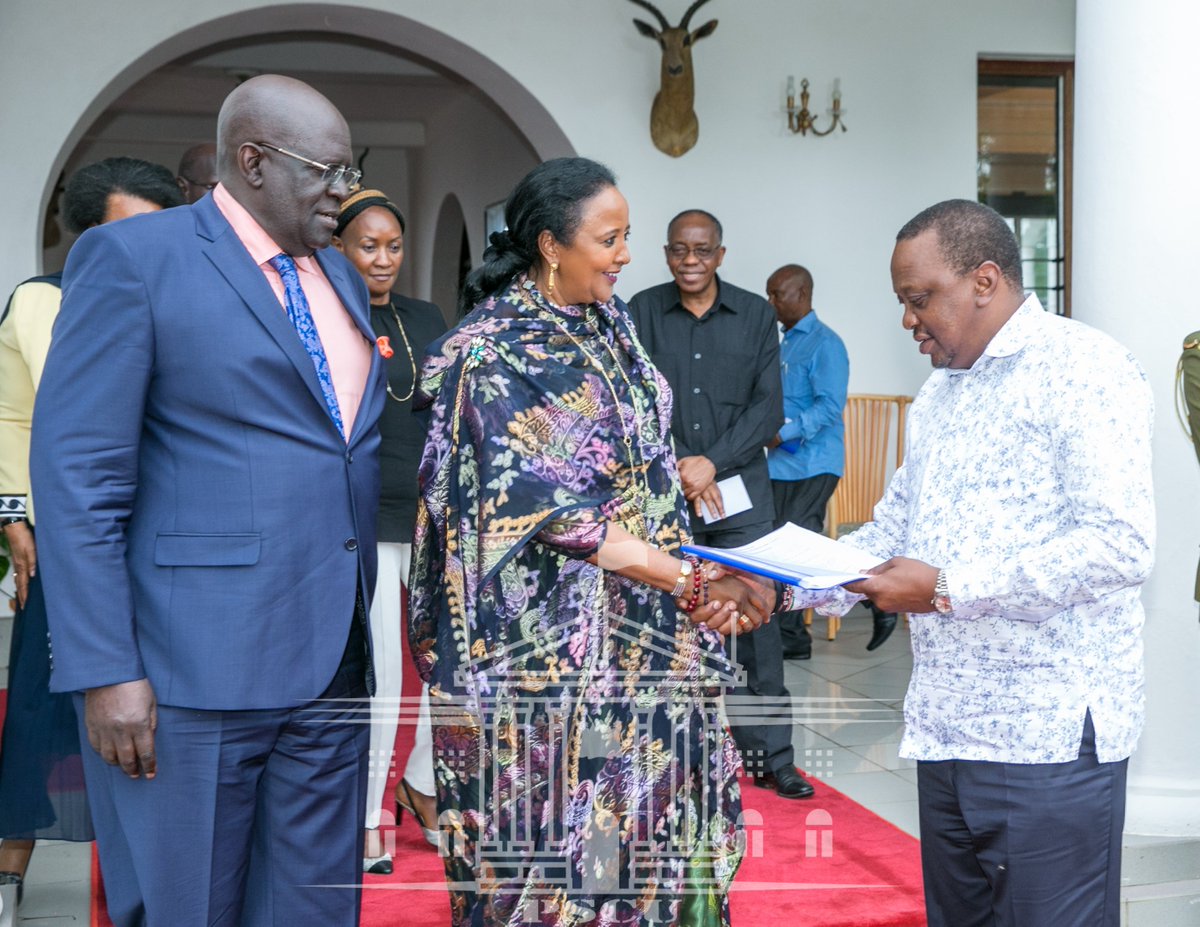 A delighted President Uhuru said: "I congratulate all pupils who sat for KCPE 2018, parents, guardians, the Ministry of Education and stakeholders who ensured a credible process. I am delighted that over 70% of these pupils got 200 marks and above. I want to reassure that all the pupils will get placement in form one."
The pesident, who was in Mombasa today, delivered on his promise of a school bus to Jilore High School, Malindi.  He officially handed over the school bus to the school's Deputy Principal, Ms. Rachel Fikirini, who was accompanied by her students at State House.
32 teachers expelled by the TSC this year for indulging in sex with students as 3 get special recognition.
Top candidates in 2018 KCPE exams score 453 marks as girls beat boys in Languages