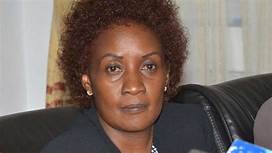 A total of 32 teachers have been expelled this year by the Teachers Service Commission, TSC,  for indulging in sexual relationships with their learners. This was revealed by the Chief Executive Officer to the TSC, Dr. Nancy Njeri Macharia, during the release of the 2018 Kenya Certificate of Primary Education, KCPE, examinations today. Dr. Macharia, who was speaking at the Star of the Sea Primary School in Mombasa, said the teachers were expunged from the TSC register in October this year, 2018.
"We can not allow a few people to ruin the future of our children," Dr. Macharia said while referring to such teachers as 'pests'. The CEO indicated that the names of the 32 teachers are on the TSC website and asked employers not to engage the services of such teachers. "Of concern is that some of our head teachers/ teachers in to whose care these children are entrusted, are the same people taking advantage of them. The commission is taking this very seriously and those found to be guilty will be dealt with accordingly," Dr. Macharia warned.
She directed private schools to only employ TSC registered teachers indicating that there is "no room for quacks in teaching centres." The tough speaking TSC boss warned private schools that will continue engaging the services of unregistered teachers and those expelled by the TSC that they shall be de-registered.
Dr. Macharia said another 26 teachers will face disciplinary action for abetting impersonation during this year's National Examinations. Macharia did not have kind words for parents whom she blamed for relegating everything to teachers.
Praised Teachers
On a positive note, the TSC CEO heaped a lot of praise on the majority of teachers for their exemplary service. "I want to join Magoha (Prof George Magoha, the Kenya National Examinations Council Chairman) in thanking our teachers for the good work. Am proud of our teachers. It is time we sang the song of heroes and teachers are heroes," said Dr. macharia. She revealed that the TSC will reward teachers with exemplary performance in executing their duties. She singled out three teachers who went beyond the call of duty during the just concluded KCPE examinations administration.
The names of these (three teachers) teachers were submitted to the TSC by the KNEC. Dr. Macharia said she will submit the names of the teachers to the President, His Excellency Uhuru Kenyatta, for consideration for award of the Head of State Commendation. The three teachers are: Belladin Dosio, Boru Dida and Mohammed Hassan.