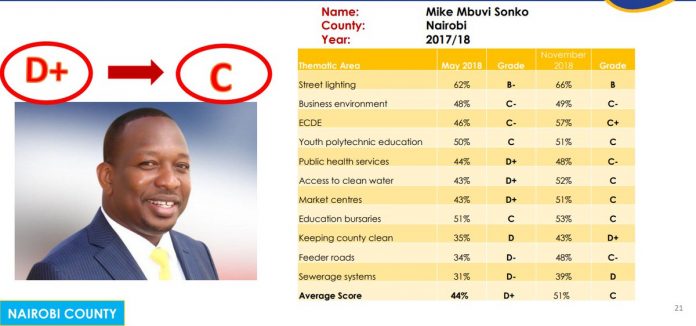 Nairobi County Governor, Honourable Mike Sonko, has recorded a massive positive improvement in the the latest County Governments' Performance rating by TIFA research limited. The survey that was conducted between 17th October 2018 and 5th November 2018 shows that the Nairobi County Governor was rated the most improved Governor with a C grade from D+; that he scored in the previous survey; in May 2018. Nairobi residents gave a green light to the Governors improvements in the Central Business District (CBD) painting, street lighting, according to latest poll by the research firm.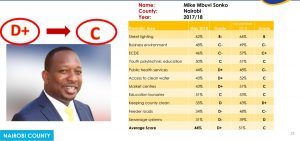 The study that focused on Service Delivery in Nairobi, Kisumu, Mombasa, and Kiambu counties, places Kisumu Governor, Professor Anyang' Nyong'o at the top spot with a rating of a C+ (plus) having an average score of 59% up from 56% in May. Mombasa Governor, Ali Hassan Joho, dropped two points to score an average of 51% down from the 53% garnered in the last survey.
Mike Mbuvi Sonko accumulated an average of 51% up from the previous score of 44%. While, Kiambu Governor, Ferdinand Waititu alias 'Baba Yao', scored an average of 53%. The survey's objectives were: to assess the performance of the county governments, to establish awareness and approval of various programmes in target counties, to establish awareness and approval of the 2/3 gender rule, to establish awareness and approval of the women representative position and to establish approval of the proposed referendum.
The survey focused at such key areas as: Street Lighting, Education Bursaries, ECDE, Trade/ Business environment, Feeder Roads, Youth Polytechnic Education, Public Health Services, Market Centres, Keeping the County clean, Access to clean water and Sewerage systems.
Mombasa governor, Ali Hassan Joho, was given a thumps up for street lighting (63% rating), Education (56%) and Early Childhood Development Education ,ECDE, (55%). He was lowly rated in Sewerage Systems with 37% rating.
Kisumu governor, Anyang' Nyong'o, scored high ratings  Keeping the County Clean (65%), Street Lighting (64%) and Early Childhood Development Education ,ECDE, (62%). He performed dismally in Sewerage Systems where he scored 47%. On the other hand, Kiambu governor, Ferdinand Waititu, scored 59%, %9% and 57% for Street lighting, Keeping the County clean and Education bursaries respectively. Waititu was disapproved, though, for poor Public Health services in Kiambu County with respondents giving him a rating of 47%.
Trends and Insights For Africa (TIFA) is an African based full market research company offering market, social and sports research.
Do you agree with these findings? What are your views? Please give your comments below.
You may also like:
Matiang'i, Kipsang relieved as the Ruaraka land saga's report adoption fails; here is the list of Senators who either supported, opposed or absconded