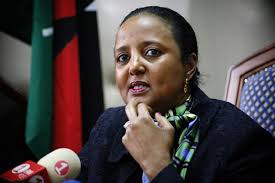 Education Cabinet Secretary Amina Mohammed was today moved to the Ministry of Sports, Arts and Culture following President Uhuru Kenyatta's executive order. Dr Amina will now be replaced by the current chair to the Kenya National Examination Council (KNEC), Dr George Magoha; who has been named the Education Cabinet Secretary-designate, pending his vetting and approval by the National Assembly.
Dr Amina replaces Rashid Echesa in the Sports docket following his sacking in a mini reshuffle effected by President Uhuru Kenyatta Friday morning. In the reshuffles and sackings spelt out in Executive Order 3 of 2019, President Kenyatta said Echesa's appointment had been revoked under Article 152 (5) of the Constitution.
Dr Amina who has been under heightened criticism from the public, lately, had this to say following the reshuffle;
"It is with humility and high honour that I thank His Excellency Uhuru Kenyatta for according me the opportunity to serve as CS for Foreign Affairs, CS for Education Ministry and now as CS for Ministry of Sports.
I congratulate my colleague in the sector the Kenya National Examinations Chairman Prof. George Magoha on his nomination to the Ministry of Education. I thank all the sector players and development partners for their tremendous support throughout my headship at the Ministry.

Together, we made huge strides in deepening the sector's reform Agenda. We delivered credible 2018 national examinations, successful CBC roll-out, near 100% transition from primary to secondary (93% and rising) progressive TVET and University reforms, among others."

Below is an extract from President Uhuru's Executive order;
A. MINISTRIES
Re- Assignments
"In accordance with Article 152(5) of the Constitution, the following Cabinet
Secretaries are re-assigned as stated:
i. Amb. Amina C. Mohamed, EGH Ministry of Sports, Culture and
Heritage.
2. Nominations
In accordance with Article 152 (2) of the Constitution, the following persons are nominated for appointment as Cabinet Secretaries as stated:
ii. Prof. George A.O. Magoha Ministry of Education
3. Vacation of Appointment
In accordance with Article 152(5) of the Constitution, as read together with Article 152(1)(d) of the Constitution, the appointment of MR. RASHID ECHESA MOHAMED, as a Cabinet Secretary has been vacated.
B. STATE DEPARTMENTS
Re- Assignments
In accordance with Article 155 (4) of the Constitution, the following Principal Secretaries are re- assigned as stated:
Ms. Susan N. Mochache, CBS- Ministry of Health
Mr. Ali Noor Ismail, CBS- State Department of Cooperatives
Dr Ibrahim M. Mohammed, CBS- State Department of Environment and Forestry
Eng. Peter Kiplagat Tum, OGW- State Department of Labour
Dr Margret Mwakima, CBS- State Department of East African Community Affairs (EAC)
Dr Susan Koech- State Department of Wildlife
2. Vacation of Appointment;
In accordance with Article 155 of the Constitution, the appointment of MRS. FATUMA HIRSI, as a Principal Secretary has been vacated."
READ ALSO;