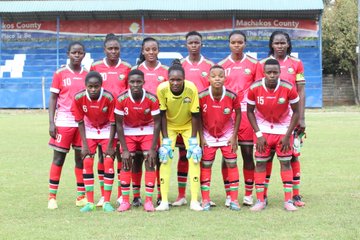 Kenya's Women national soccer team Harambee Starlets are through to the third round of the 2020 Olympic Qualifiers after overcoming visitors Malawi 3-0 today. The match that was played at Kenyatta Stadium in Machakos saw the hosts hit front gear in the 18th Minute via a fine finish from Cynthia Shilwatso. A brace from Mwanahalima Adams in the second half (77th and 88th minute) was enough to see the Starlets through after going down 3-2 in the first leg.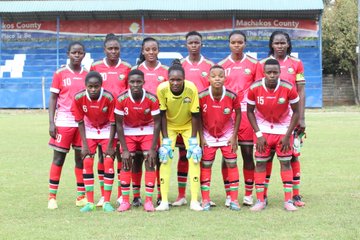 The match was played in a closed stadium since Moi Kasarani (which is the only available CAF accredited stadium in Kenya) is not available for use.
The Starlets are now poised to face either Ghana or Gabon in the third round.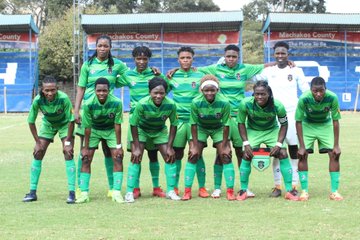 The Squads
Starlets Starting XI
1. Annette Kundu (GK), 3. Vivian Nasaka, 15. Wincate Kaari, 5. Dorcas Shikobe (C), 20. Ruth Ingosi, 6. Sheril Angachi, 13. Elizabeth Wambui, 4. Cynthia Shilwato, 2. Mwanalima Adam, 17. Vivian Corazone, 10. Gentrix Shikangwa
Substitutes
30. Judith Osimbo (GK), 7. Janet Moraa, 14. Lucy Akoth, 19. Foscah Nashivanda, 12. Lydia Akoth, 16. Betha Omita, 8. Mercy Airo, 11. Nelly Sawe, 9. Topistar Nafula
Malawi Starting XI
16. Samir Amidu (GK), 2. Chimwemwe Madise, 6. Towera Vinkhumbo, 5. Patricia Nyirenda, 4. Maureen Phiri, 9. Sabina Thom, 12. Madyina Nguluwe, 8. Salome Vinkhumbo, 20. Wezzie Mvula, 11. Tabitha Chawinga, 10. Temwa Chawinga
Substitutes
1. Mercy Sikelo (GK), 19. Shira Dimba, 17. Chikondi Gondwe, 15. Emily Jossam, 3. Ruth Nyirongo, 18. Mary Chavinda, 14. Zainab Kapanda, 13. Linda Kasenda, 7. Asimenye Simwaka