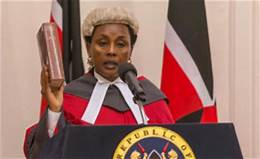 Kenya's Chief Justice, Hon. Justice David Maraga, has advised his deputy, Hon. Lady Justice Philomena M. Mwilu to stop politicizing her ongoing court case. The embattled Deputy Chief Justice is facing judges over alleged transactions involving the collapsed Imperial Bank and various charges counts among them abuse of office and forgery.
In a memo sent to Lady Justice Mwilu, Hon. Maraga who is also the President of the Supreme court decries Mwilu's decision of "using political influence to interfere with an ongoing case in court".
"As the Deputy Chief Justice, you more than anyone else, must demonstrate to the public that you are the deputy head of an institution you belief in", says Judge Maraga in the memo addressed to Judge Mwilu. He goes on to say, "Show trust in the system and the process to clear your name and prove your innocence".
The Deputy Chief Justice Philomena Mwilu was arrested on 28/8/2018 at Supreme Court in Nairobi over alleged corruption and taken to the Directorate of Criminal Investigations for questioning.
Maraga now advices the DCJ to take leave to save the face of the Supreme court. "In addition, with the dignity and reputation of the Judiciary at stake, I would like to suggest that you consider taking some time away from office until this unfortunate matter is dispensed with", writes Maraga.
Justice Maraga sympathizes with Mwilu, though, for the difficult time she must be going through and assures her of full moral and spiritual support during this trying period.
The criminal proceedings against Deputy Chief Justice Philomena Mwilu were suspended on August 31st and referred to the High Court. Pending hearing and determination, the case will be mentioned on October 22, 2018.
Justice Mwilu is blaming her woes on the President's political hand; more so after the president promised to revisit a case ruled against him during last year's General elections.
Read also.. Principal directs teachers to avoid using Vernacular in Teaching: https://newsblaze.co.ke/principal-directs-teachers-to-avoid-using-vernacular-in-teaching/