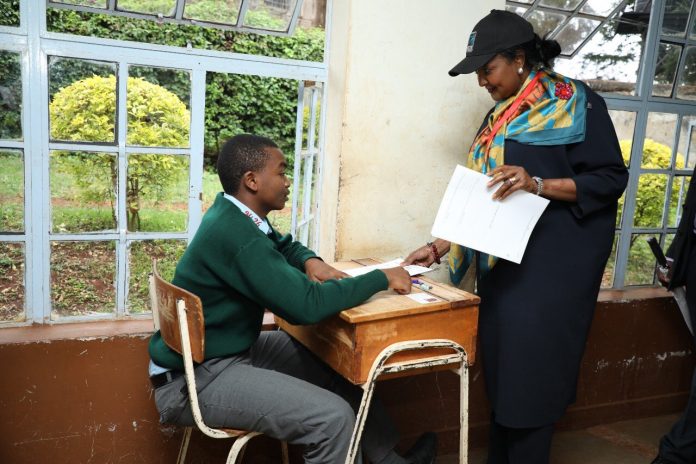 Kisii county is on the spotlight again for all the wrong reasons. Days after 17 people were arrested at Monianku secondary school for suspected cheating during the ongoing Kenya Certificate of Sevondary, KCSE, exams, today it was Nduru boys that hit the headlines. This was after police arrested about 19 people for examination related malpractices.
Those arrested included 14 students who were found with foreign materials, immediately after the History exam, and the 5 invigilators manning the rooms.
It was reported by No 112666 PC Aden Kara who guarding Nduru boys examination centre that he saw candidates with materials inside the examination room. He reported to Thomas Owinyi a KNEC monitoring officer who was at the centre. The report was passed on to the Sub-county security team who proceeded to the centre and waited for the history paper one to end. They frisked the students and managed to recover a lot of materials and arrested the following candidates:
Nyakundi Fidel Mose,
Victor Obare Morara,
Onderi Owen Kiriago,
Oyaro Elizaphan Omworo,
Mauti Nyankieya Enock,
Dennis Obara Nyayiemi
Felix Mosonga Obara,
Arori Wycliffe Obara,
Kennedy Mayomi Kenyanya,
Joash Jacob Juma,
Amos Saitoti Meteikini,
Brian Tongi Oichara,
Samwel Nzembe Kenyanya and
Brian Mayaka Manyara.
Also arrested are the invigilators of the affected examination rooms namely;Tom Osoro Reuben, Daniel Okiagera, Evans Arumba Obare, Nyaundi Dennis Ogake and Mongare Nyandega Peter.
They are all held in custody and will appear before court on 20/11/18, tomorrow.
This happened even as the Teachers Service Commission boss, Dr. Nancy Njeri Macharia, said that 26 teachers were facing disciplinary action for abetting cheating during the Kenya Certificate of Primary Education, KCPE, exams this year, 2018.
2018 KCPE Exams Results Released today; Here are the full details
32 teachers expelled by the TSC this year for indulging in sex with students as 3 get special recognition.
Full presser: Education Minister, Dr. Amina, Gives details of cases of malpractices at Kakamega, Monianku and other places