It has emerged that the Migori governor Okoth Obado had been denied bail and remanded at the Industrial Area Prison until October 8 when the court will hear afresh his bail application is enjoying VIP treatment.
"At this juncture I am disallowing the application and he will appear with the others on October 8th," Justice Jessie Lessit had said on 27/9/2018 while rejecting Obado's bail application.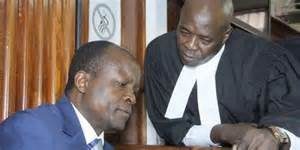 High Court Judge Jessie Lessit concurred with the prosecution that the suspect has a likelihood to tamper with the evidence, endanger national security.
"The nature has been changing and more and more are being charged with the case. Interference can also be affected by the releasing of some of the persons facing the same charge," she said.
The three are facing charges in the murder case of Rongo University student Sharon Otieno.
But, contrary to the lives led by most prisoners Obado is home away from home at the Industrial area prison:
Governor Obado stays in a high end segment of the industrial area prison referred to as block 2. This segment of the prison holds a very few number of 'Very important persons'. Obado shares the room with 2 other murder suspects.
Obado sleeps on a 'magnificent' three deck bed with a mattress and bedding; that are regularly cleaned and changed.
The Block B 2 Industrial area prison's segment has maximum security and is guarded by a Sergeant police officer on a 24 hours basis.
His food is not the normal prison ugali, beans and poridge. In fact, his food is brought into the prison from the exterior hotels.
Obado does not wear the normal 'ugly' prison uniforms. He has been allowed to wear his own clothes, contrary to pictures doing rounds on social media. Obado wears neatly passed suits to court proceedings.
The embattled governor receives a large number of daily visitors including Migori county government officials.
Indeed, Governor Okoth Obado is home away from home at the Industrial area prison, where he will spend another nine days till his bail ruling is made on 8 October, 2018.
You may also like:
This man Okoth Obado! We dissect Obado's life, times and the Controversies Surrounding the Migori Governor.