EXIT OF TEACHING SERVICE VIA RETIREMENT ON MEDICAL GROUNDS
The TSC may decide to retire a teacher on medical grounds. This is applicable to teachers who may no longer be capable of discharging their duties effectively on account of poor health.
This type of retirement may be initiated by either the employer or the employee upon realization of the effects of health challenges on the productivity of the employee. A Medical Board constituted by the Director of Medical Services will recommend the Retirement upon assessment of the teacher.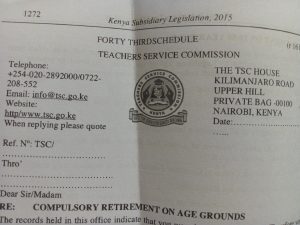 Where the teacher is considered for retirement by the TSC on medical grounds, the Commission shall require the teacher to appear before the medical board constituted by the director of medical services which shall issue a medical report to warrant the retirement.
You may also like:
TSC; TYPES OF EXITS/ HOW CAN A TEACHER LEAVE SERVICE-RETIREMENT, TERMINATION, DISMISSAL, REDUNDANCY, TRANSFER OF SERVICE AND DEATH
TSC; TYPES OF EXITS/ HOW CAN A TEACHER LEAVE SERVICE-RETIREMENT; TYPES OF RETIREMENTS- VOLUNTARY EARLY RETIREMENT