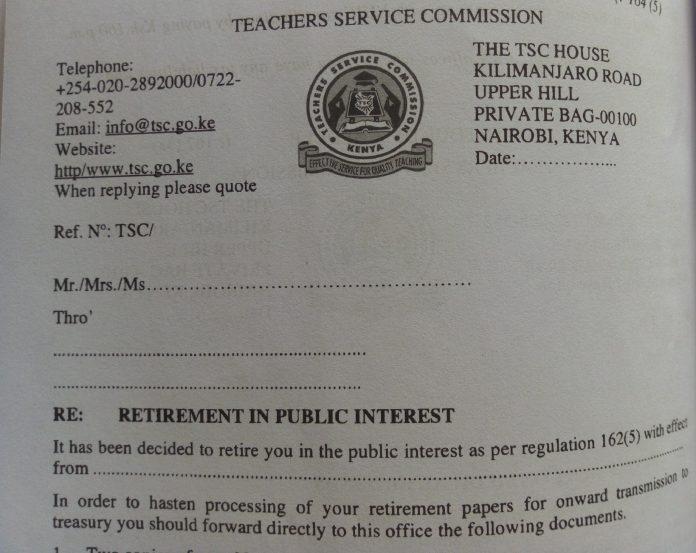 RETIREMENT IN THE PUBLIC INTEREST
The TSC may retire a teacher on grounds of public interest upon considering every available report with regard to the public protests and complaint against the teacher and upon considering that it will be undesirable to retain such a teacher in the teaching service.
An employee whose conduct and behavior may not be conducive for peaceful and effective learning or whose behavior may pose a threat to the well being of learners and fellow teachers may be retired in the Public Interest.
Such a teacher may be retired at any age, provided they are in permanent and pensionable establishment.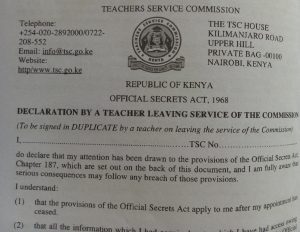 A complaint or report to warrant the retirement of a teacher on grounds of public interest shall demonstrate that the teacher has engaged in in acts or omissions that contravene public interest  and policy.
You may also like:
TSC; TYPES OF EXITS/ HOW CAN A TEACHER LEAVE SERVICE-RETIREMENT; TYPES OF RETIREMENTS-COMPULSORY RETIREMENT ON AGE GROUNDS
TSC; TYPES OF EXITS/ HOW CAN A TEACHER LEAVE SERVICE-RETIREMENT; TYPES OF RETIREMENTS-RETIREMENT ON MEDICAL GROUNDS