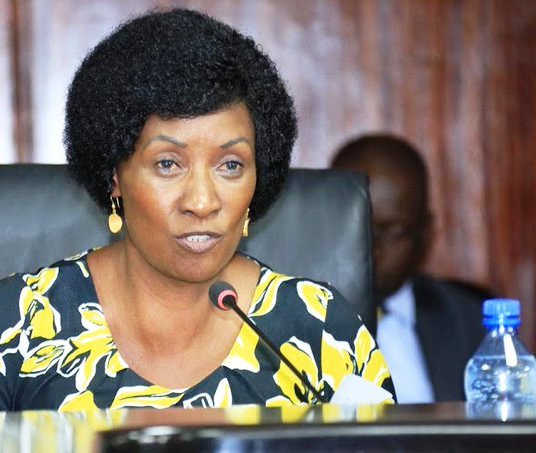 Teachers aligned to the Kenya National Union of Teachers, KNUT, have though been left out. KNUT is in court opposing the CPG model. This means that the promoted teachers are either those who ditched KNUT recently or belong to rival union KUPPET.
Most of those promoted belong to lower cadres and are currently teaching in primary schools. Apart from getting enhanced salaries and allowances, they will have a reason to smile as their perks have been back dated to July, this year.
"The greatest beneficiaries are the teachers in primary school in Grade B5 (formerly P1). The teachers have been promoted after serving for three years since 2017." Says TSC Boss
Dr. Nancy Macharia.
Dr.Macharia says the Commission is committed towards ensuring that all the benefits granted to teachers in the
current CBA
are implemented before the next financial year.
"The Commission is committed to safeguarding the professional growth of all teachers and ensuring that by 30th June, 2021 all the benefits granted by the Government of Kenya to teachers in the
2017 to 2021 CBA
including the opportunities for career growth are fully implemented." She promises.
KNUT's membership has declined immensely, of late, as a result of the constant feuding between the union and the teachers' employer; TSC.
The vacancies include: Deputy Principal I, Deputy Principal II, Senior Lecturer, Deputy Principal III, Curriculum Support Officers, Head Teacher, Senior Master IV, Deputy Head Teacher II, Senior Lecturer IV and Senior Master IV.
Interested candidates, who meet the required qualifications, should make their applications online through the TSC website– www.teachersonline.go.ke so as to be received on or before 13th January, 2021.
FULL TSC ADVERT FOR INSTITUTIONAL ADMINISTRATORS.
See the full advert, below;
[embeddoc url="https://educationnewshub.co.ke/wp-content/uploads/2020/12/ADVERTS-INSTITUTIONAL-ADMINISTRATORS-2020.pdf"]
MORE PROMOTIONS FOR TEACHERS.
In September this year, TSC promoted 1,000 teachers in public primary schools. Successful candidates under this category have been appointed at T-Scale 7, Grade C2 under the Career Progression Guidelines for teachers and shall be deployed to secondary schools where vacancies exist.