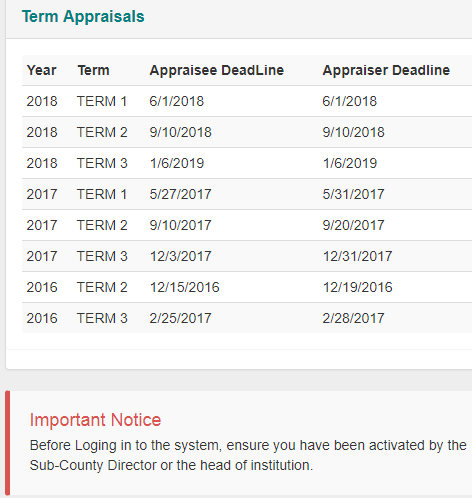 The Teachers service Commission, TSC, has reduced the number of teaching standards to be appraised for teachers from the previous seven to five on its online appraisal portal. The Commission requires teachers to upload their termly appraisal data via the Teacher Performance Appraisal and Development (TPAD) portal. "There has been consultation with different stakeholders including heads association ( KESSHA, KTCPA), heads of institution, County Directors, Sub County Directors, Curriculum Support Officers and teachers on TPAD implementation. From the input from the stakeholders, the TPAD teaching standards have been reviewed and reduced from 7 to 5," the Commission says.
Since the inception of PC and TPAD in January 2016 the Commission has been monitoring implementation and institutionalization of the performance management tools at all levels learning institutions, Zonal, Sub County and County. Monitoring and evaluation is continuously done at the county level where all learning institutions are monitored on termly basis as part of the County Directors Performance Contract.
Also read; TSC to use performance appraisal ratings in considering teachers for promotions
Customized TPAD Tools
To enhance implementation, the Commission has customized the TPAD tools targeting teachers serving in primary, secondary, special needs institutions and post secondary institutions, where, while the teaching standards are the same for all categories of teachers, p erformance indicators and verifiable evidence have been customized for various institutions which include:
i. primary,
ii. secondary
iii. CEMASTEA
iv. KISE
v. Teacher Training Colleges (Diploma & Certificate
vi. Special Needs Education Institutions.
vii. Kenya Institute for the Blind.
TPAD Revised Teaching Standards
The standards are in three categories or domains which are:
•Part A Instructional Delivery(Teaching)
1.Professional Knowledge and Practice
2. Comprehensive Learning Environment
3. Teacher Professional Development

Part B Teacher Conduct and Professionalism
4. Teacher Conduct and Professionalism
Part C Community of Practice
5. Participation in Professional Learning Community
PART A
INSTRUCTIONAL DELIVERY(TEACHING)
Teaching Standards
Standard 1: Professional Knowledge and Practice
Targets
1. Prepare professional documents based on the current syllabus/designs
2. Demonstrate mastery of the subject content and use different appropriate instructional methods
3 Undertake lesson observation at least once a term
4 Utilize teaching/learning resources effectively (improvised or procured)
5 Ability to identify the learners' capability and learning styles
6 Ability to identify and nurture learners' talents
7 Ability to access, retrieve and integrate ICT in teaching and learning
8 Ability to carry out learner assessment, feedback and reporting on learners'learning
Standard 2: Comprehensive Learning Environment
Targets
i Ability to create child friendly school/class environment
ii. Ability to ensure safety of learners
iii. Ability to manage learners conduct and behavior

Standard 3: Teacher Professional Development
Targets
i Identify professional gaps
ii. Develop Teacher's Termly Professional Development (TPD) Support Plan
iii. Engaging in continuous and relevant career growth and development
PART B: TEACHER CONDUCT AND PROFESSIONALISM
Standard 4: Teacher Conduct and Professionalism
Targets
1 Teacher's ability to act in the best interest of the learner and maintain high standards of ethics and professional requirements within and outside the institution.
2 Ability to observe punctuality in lesson attendance, performance of duty and preparation of professional documents
3 Timely syllabus coverage and meeting of deadlines
PART C: COMMUNITY OF PRACTICE
Standard 5: Participation in Professional Learning Community(PLC)
Targets
1 Join Professional Learning Community (PLC)
2 Collaborate with colleagues and the broader Professional Learning Community to support teaching and learning
3 Collaborate with parents/guardians and other stakeholders
4 Establish linkages with communities
5 Participate in programs organized in collaboration with other education bodies and partners (KNEC, MOE, KICD,NGOs etc
Procedure- TPAD Management
According to TSC, this is how the appraisal process should be executed;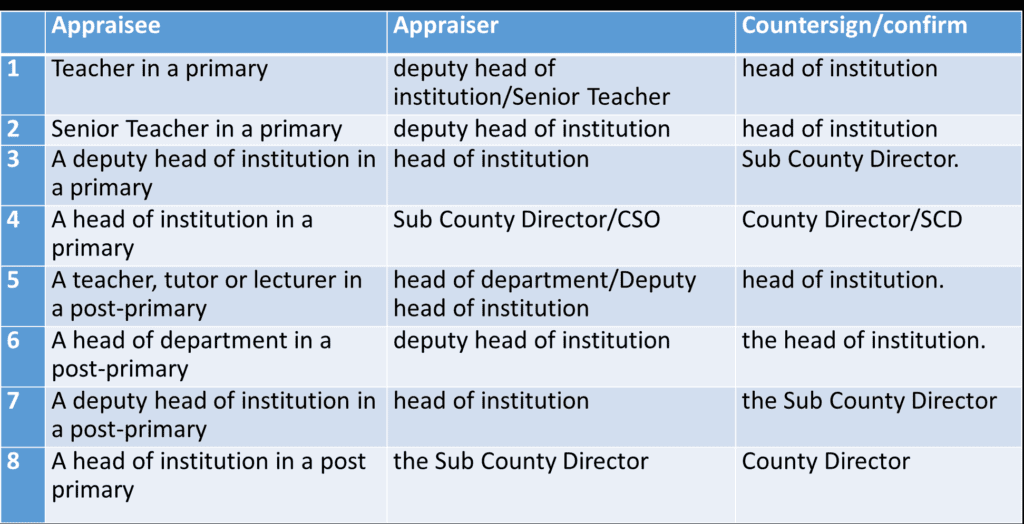 TPAD PROCESS- STEPS
These are the steps to be undertaken to ensure effective appraisal;
Step 1: Development of appraisal Calendar
Step 2: Setting Targets
Step 3: Implementation of targets and gathering of evidence
Step 4: Self Appraisal and Standards based on competencies and standards
Step 5: Appraisal rating by Appraiser based on evidence gathered.
Step 6: Appraisal rating meeting between Appraiser and Appraisee (Question and Evidence).
Step 7: Identification of gaps by Appraisee and Appraiser
Step 8: Development and implementation of teacher support and performance development.
New Features in the Revised TPAD Online System:
Here are the modifications introduced to the new TPAD system:
The system is three in one; TPAD, PC & TPD
Unlike the current TPAD system, the new system is superior and user friendly in the following ways;
i. Adequate security features:
ii. User Friendly and Interactive
iii. Inbuilt self monitoring:
iv. Online real time feedback:
v. TPD Portal:
vi. Performance Contract for Heads of Institution:
vii. Reports:
viii. Instructional supervision planning:
ix. Customized to institutional needs:
x. Accessibility both online & offline:
xi.Enables Audit trails in the system who did what
Related news;